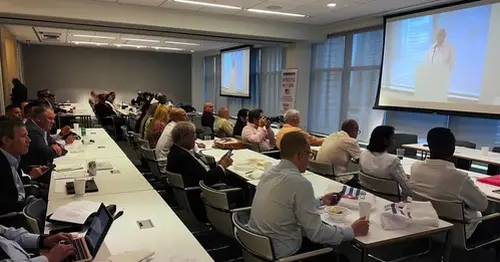 Cuba private sector entrepreneurs attend Miami conference
MIAMI — On a recent morning, dozens of entrepreneurs from communist-run Cuba attended a conference in Miami to learn more about how to improve their businesses and work within the confines of the U.S. embargo.
It was a rare moment. Never before had a large group of Cuban entrepreneurs traveled to the U.S., given the limitations that have been placed by both governments in the last decades, along with the hard-line policy many Cuban Americans in Miami have advocated.
Diosdado Delfino, who has owned a business in Havana since 2012 that repairs and paints buildings, was at the conference last week in the Brickell area of Miami last week trying to figure out how he could purchase equipment more easily, like paint and protective gear, when he's back in Cuba.
"It's the first time I come to Miami, and I think it's fantastic," said Delfino, sounding optimistic about his prospects. "I would like to do business here in the future."
The private sector has been growing in Cuba, and by some estimates has replaced the state as the largest employer. Private businesses are active in a range of industries, including furniture, apparel, food and software. Some of their most ardent supporters include a growing number of Cuban Americans in Miami who want to see the private sector strengthen in the communist island and, to an extent, President Joe Biden's administration.
The conference was largely organized by a former Florida congressman, Joe García, a Democrat and a Cuban American.
"We were able to gather 70 entrepreneurs from Cuba, with some of the most successful Cuban American businesses in the world," said García. "They were super thrilled. Many of them had never been to the United States. And Miami is the most important market for Cuba, just by the nature of the geography."
García is considering more events like this in the future.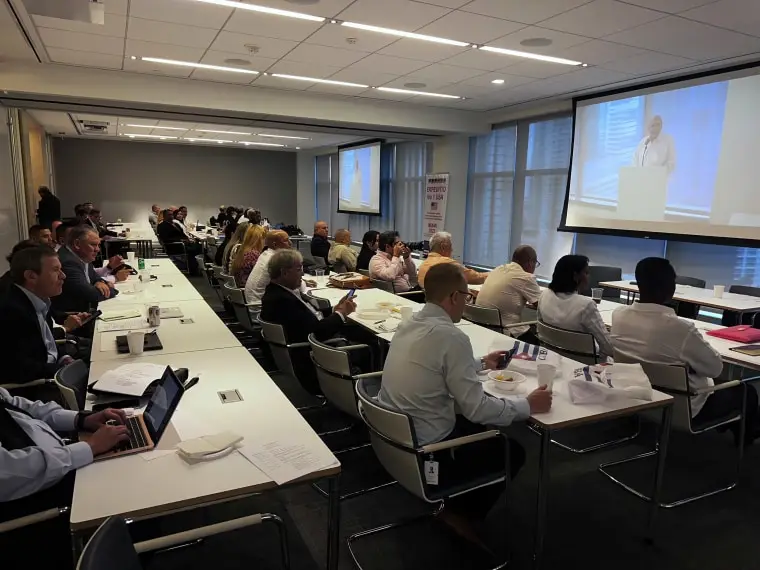 Cuba's private sector now employs over 1.6 million people, more than the state, according to an analysis by Juan Triana, an economist with the Center for the Study of the Cuban Economy, based at the University of Havana. (The state employs 1.5 million, according to the Ministry of Economy.) The private sector also offers workers better salaries and more job options than the state.
Since Cuba in 2021 lifted a ban on small and medium-sized enterprises (SMEs), often called mipymes in Spanish, over 9,100 businesses have been approved and registered by the government, according to the latest government numbers published in September. In the last two years, Cuba's small businesses have generated over 250,000 jobs, according to the government.
In the first six months of this year, SMEs imported $264 million and exported $6.3 million worth of goods, Cuba's economy minister, Alejandro Gil, said before the national assembly in July. He predicted that by the end of 2023, the private sector will have imported $1 billion in goods.
Supporting Cuba's private sector is one of the few points where the U.S. and Cuban governments see eye-to-eye at a time when relations continue to be sour.
At the Miami conference, many Cuban entrepreneurs rubbed elbows with some of the city's Cuban American business elite.
"It is fascinating to see how eager and hungry they are," said Mike Fernández, a businessman who came from Cuba when he was 12. "Given the right mentorship, they will excel. They will fail 50 times, but that's what makes them strong. They will continue to stand up."
John Kavulich, head of the U.S.-Cuba Trade and Economic Council, a nonpartisan group based in New York, said at the conference that "the goal is to provide the Cuban companies with information that's executable, rather than political 'Kumbaya.'"
"That it's happening in Miami and it's public is also critically important," Kavulich said.
For many Cubans who have been isolated from capitalism for most of their lives, starting a business is challenging and they lack the know-how. They are also dealing with heavy regulations, shortages and a U.S. embargo. One of the biggest challenges private businesses face is they have to import and export through state-run companies. Financing is limited.
The U.S. embassy in Havana has held events for Cuban entrepreneurs, including training programs and seminars.
A U.S. State Department official told NBC News, "The Biden Administration seeks to foster the Cuban people's entrepreneurial spirit and create opportunities for independent private sector entrepreneurs to grow their businesses."
It is rumored the administration is preparing new measures that would allow Cuban business owners to access the U.S. banking system and allow them to operate them from Cuba or a third country.
A small-business evolution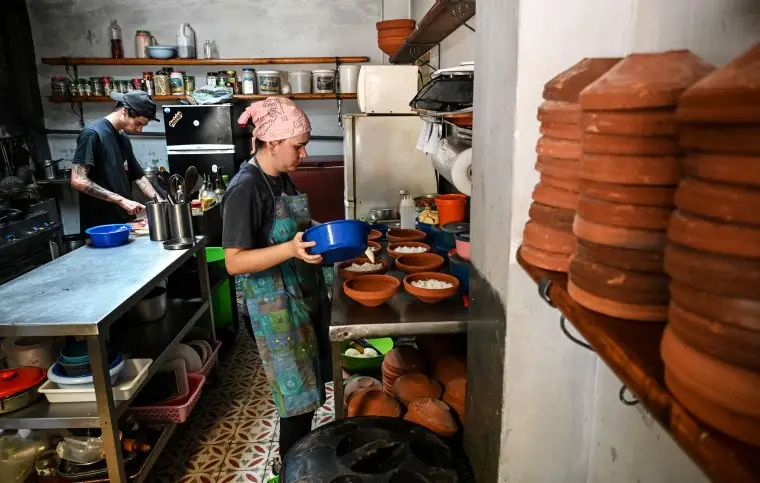 In the years after the 1959 revolution, Fidel Castro's government seized private properties and installed a socialist state. In 1968 incorporated businesses were outlawed through a campaign known as the "Revolutionary Offensive" and the remnants of the private sector were eliminated; most private companies were nationalized. The country moved to a Soviet-style, centrally planned economy where virtually everyone was employed by the state and all imports and exports were controlled by the government.
In the decades that followed a small number of Cubans continued to offer private services for a limited amount of clients. Eventually, in 1993, a law was passed that allowed people to work "por cuenta propia," a euphemism for private business, a term communist leaders were uneasy with. The industries in which these businesses were allowed to operate were limited and they were heavily regulated, but they opened a crack in the state-dominated economy. The law was passed in the midst of an economic meltdown following the collapse of the Soviet Union, which had been subsidizing the island.
In 2011 the rights of the "self-employed" were expanded and they were allowed to employ workers. A law expanding those rights was passed in September 2021 as Cuba was undergoing another dire economic crisis that has led to shortages in food, medicine and power, as well as rising inflation, historic protests and the largest exodus of Cubans in the nation's history.
Now, with the 2021 law, all businesses that have more than three workers must be registered with the Ministry of Economy as an SME, or mipyme, essentially a limited liability company. They can have up to 100 employees and can operate in most industries, except education, health, mining, defense and several other areas.
As with many issues pertaining to the island, Cubans on either side of the Florida straits don't always agree on how to encourage Cuba's private sector.
Some in Miami say that those with close ties to the government are benefitting from opening businesses and that the private sector only serves to strengthen a repressive government. And a new generation of Cuban Americans that have come to the city in recent years prefer a hard-line policy on Cuba. 
In Cuba, the conference drew criticism on state-run media because one event in Miami took place at the home of a Cuban American exile who the Cuban government called a "terrorist" for allegedly trying to overthrow the government.
Despite such criticism in the U.S. and Cuba, the conference was considered a breakthrough by many, according to García.
"I think we had a significant historical event in the heart of Miami, which is the central issue in the debate," said García. "People tend to think — the Cuban government in particular — that their debate is with Washington. The debate isn't with Washington, it's with the Cuban American community and its power in Washington."
Source: https://www.nbcnews.com/news/latino/cuba-private-sector-entrepreneurs-attend-miami-conference-rcna118932
Related Posts