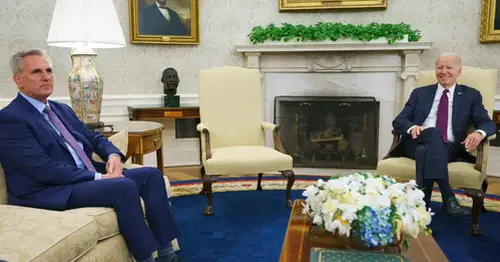 Debt ceiling meeting between Biden and congressional leaders is delayed
WASHINGTON — President Joe Biden's meeting with the top four leaders in Congress planned for Friday has been postponed until next week, three sources said.
"Staff will continue working, and all the principals agreed to meet early next week," a White House spokesperson said.
House Speaker Kevin McCarthy, R-Calif., said that all parties agreed to the postponement and that it should not be read as a sign that talks are falling apart. "We are going to meet again," he said, adding that the group believes it will be most productive to "let the staff meet again tomorrow."
A source familiar with the meetings said: "This is a positive development. Meetings are progressing. Staff is continuing to meet, and it wasn't the right moment to bring it back to principals."
Friday's planned debt ceiling meeting at White House is postponed
May 11, 2023
00:34
Congressional leaders met at the White House on Tuesday in a meeting that was described as "tense and serious" by a source in the room and did not result in a deal. Staff members for congressional leadership and the White House have been meeting daily since then, including a two-hour meeting Thursday in the Capitol basement that was attended by Louisa Terrell, Biden's top legislative aide.
Recent meetings and staff-level White House talks with the divided Congress have yielded few public signs of a breakthrough to avoid a default that Treasury Secretary Janet Yellen warned could come as early as June 1. But some saw the postponement as a small, positive development.
The delay allows the staff group to be able to make more progress — however "notional" — and the principal negotiators to make bigger moves next week, an aide familiar with the talks said.
Another source familiar with the discussions said there have been good and productive conversations among staffers. Those in the room felt having a few more days to talk at the staff level would be helpful, so they decided to move the leaders' meeting to early next week.
Biden, Senate Majority Leader Chuck Schumer, D-N.Y., and House Minority Leader Hakeem Jeffries, D-N.Y., remain adamant that the threat of default, which would be catastrophic for the U.S. economy, be taken off the table and that any negotiations be left to talks over the federal budget.
McCarthy, meanwhile, is not budging on his refusal to extend the debt limit without conditions, demanding spending cuts. He has the support of Senate Minority Leader Mitch McConnell, R-Ky., even as both Republican leaders say they do not want to see the country default.
House Rules Committee Chair Tom Cole, R-Okla., said he hopes the delay means the White House is changing course.
"I hope it means they're reconsidering their ridiculous strategy of saying we have to have a clean debt limit because they can't get one through either house," Cole said. "So hopefully this means the White House is finally serious about addressing the debt crisis."
A wild card in the already tense standoff is former President Donald Trump, the de facto leader of the Republican Party, who poured fuel on the fire this week by egging on an unprecedented default unless Democrats surrender to GOP policy demands and slash spending in a CNN town hall.
Source: https://www.nbcnews.com/politics/congress/debt-ceiling-meeting-congressional-leaders-biden-delayed-rcna84020
Related Posts