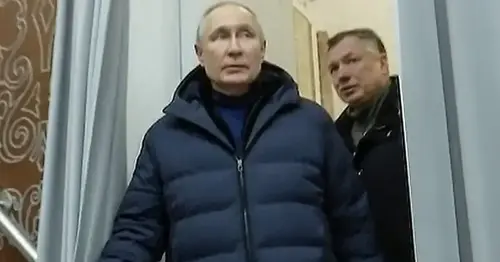 Defiant Putin visits Mariupol in first trip to occupied eastern Ukraine
Days after the International Criminal Court issued a warrant for his arrest, Russian President Vladimir Putin made a defiant visit to the city of Mariupol in his first trip to Ukrainian territory that Moscow illegally annexed in September.
Putin flew into the port-city by helicopter and "traveled around several districts of the city," the Kremlin said in a statement Sunday, adding that he met several residents and went into one family's home after they invited him in.
Russia's Deputy Prime Minister Marat Khusnullin said in a separate post on his Telegram channel, that Putin "personally inspected one of the residential areas, the building of the Philharmonic Society and assessed the roads, driving a car around the city."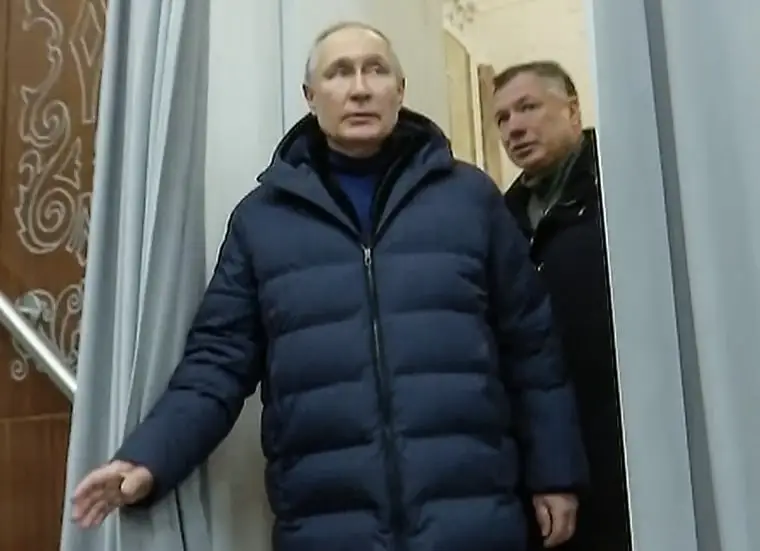 Ukraine ceded Mariupol to Russia in May, after a monthslong struggle that saw some of the most brutal Russian strikes of the conflict, including an attack on a theater that was serving as the city's largest bomb shelter and a maternity hospital. Much of the strategic city still lies in ruins after relentless bombardment.
Having failed to take Ukraine's capital Kyiv, it was Moscow's first major victory after it's invasion in February.
But by then it had become a worldwide symbol of defiance after small group of outgunned Ukrainian fighters held out for 83 days in the sprawling Azovstal steelworks in the east of the city, in one of the war's longest and bloodiest battles. Their dogged defense tied down Russian forces and held up their eastern offensive.
An estimated 100,000 people remained in the city out of a pre-war population of 450,000 after its capture.
Khusnullin said Sunday he had reported to Putin on "the construction of new housing and infrastructure, the improvement of territories, road construction and economic development."
In a separate interview with the state-owned news agency RIA Novosti, he said that "people began to return actively" to the city "when they saw that the restoration was going on."
NBC News was unable to verify this claim.
It was Putin's second unannounced trip of the weekend to Russian-occupied areas of Ukraine. He also traveled to nearby Crimea to mark the ninth anniversary of the Black Sea peninsula's annexation from Ukraine.
While Ukraine's President Volodymyr Zelenskyy has made a number of trips to battlefields to boost soldier morale, Putin has mainly remained inside the Kremlin throughout the year-long conflict and his visit to Mariupol was the closest Putin has been to the front lines since the invasion.
Russia annexed Crimea from Ukraine in 2014, a move that most of the world denounced as illegal. Following referendums that Kyiv and the West described as a sham in September, Moscow claimed four regions in Ukraine's south and east as Russian territory including Donetsk, where Mariupol is situated.
The Kremlin statement said that he had also met with the top command of his military operation in Ukraine, including Chief of the General Staff Valery Gerasimov who is in charge of the war, at the Rostov-on-Don command post in southern Russia.
While Putin has largely been exempt from complaint, some of Moscow's pro-war agitators have seen the non-appearance of senior ministers to the battlefields as evidence they are not strong enough on Ukraine. 
His visits came a day after the International Criminal Court issued an arrest warrant for the Russian leader, accusing him of committing the "war crime" of overseeing the unlawful abduction and deportation of children from Ukraine to Russia.
It said there were reasonable grounds to believe that Putin bore individual responsibility for the crimes, and that he had failed to exercise proper control over subordinates who committed the acts.
Moscow has consistently denied allegations of war crimes, describing them as a "fantasy" aimed at discrediting Russia. Putin's press secretary Dmitry Peskov rejected the court's findings. "We do not recognize this court, we do not recognize the jurisdiction of this court. This is how we treat this," he said in a Telegram post Friday.
Casualties rise as Ukrainian and Russian forces fight for the city of Bakhmut
March 15, 2023
04:25
Elsewhere, Yevgeny Prigozhin, a billionaire oligarch who runs the private army the Wagner Group said Saturday that he plans to recruit 30,000 new fighters by mid-May. 
"We have days when we're recruiting up to 1200 people a day. On average, the number's oscillating between 500-800 [people] and there's currently a spike in growth,"  Prighozin said in a statement posted to the Russian social media site VK on Saturday. 
Source: https://www.nbcnews.com/news/world/russia-ukraine-war-putin-mariupol-visit-arrest-warrant-war-crimes-rcna75621
Related Posts