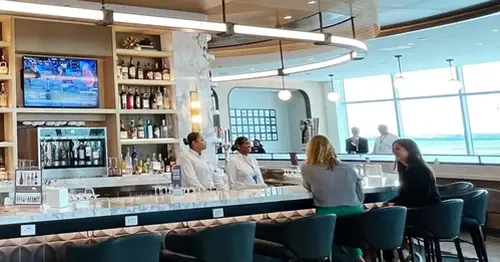 Delta CEO says carrier went 'too far' in SkyMiles changes, promises modifications after frequent flyer backlash
Delta Air Lines CEO Ed Bastian said the airline will make "modifications" in the next few weeks to its loyalty program after a recently announced overhaul that would make it more expensive for many travelers to earn elite status and get into airport lounges was met with a backlash from customers.
"No question we probably went too far," Bastian said at the Rotary Club of Atlanta on Monday.
The program changes, which Delta unveiled earlier this month, would reward customers with elite status based on how much they spent, a model similar to that of American Airlines, and reduce access to Delta popular airport Sky Club lounges for many American Express cardholders.
JetBlue Airways tried to capitalize on some customers' anger over Delta's changes by offering frequent flyer status matching, saying, "we've made it easy for you to cozy up to a new loyalty program and see where it goes."
Delta has been grappling with a surge in elite travelers, bolstered by Covid pandemic and post-pandemic spending, and swarms of travelers trying to get into its lounges, leading to long lines for many customers. The airline and rivals including American and United have been racing to build bigger airport lounges to cater to swelling numbers of big spenders.
Bastian said the airline will announce the updated program changes in the coming weeks. A Delta spokesman declined to comment further on the changes.
"It's gotten to the point, honestly, where we have so much demand for our premium product and services that are far in excess of our ability to serve it effectively in terms of our assets," Bastian said.
He said that over Covid, the airline has doubled the number of Diamond Medallion status members.
More from CNBC
GameStop names Ryan Cohen as CEO effective immediately, won't receive salary
Peloton shares soar on digital content, apparel partnership with Lululemon
Saudi soccer league says big-money player purchases are only the first step in a long-term strategy
David Neeleman, CEO of Breeze Airways and founder of JetBlue, told CNBC on Wednesday that he has Delta Medallion status and that he tries to use Delta's airport lounges but that sometimes "there's a big line and it's not worth it."
Source: https://www.nbcnews.com/business/business-news/delta-ceo-says-carrier-went-far-skymiles-changes-promises-modification-rcna117815
Related Posts