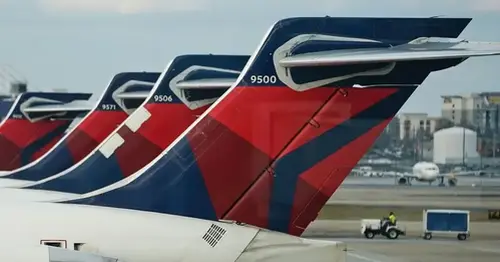 Delta flight hits severe turbulence near Atlanta, 11 people taken to hospital
At least 11 people were taken to the hospital after a Delta Air Lines flight hit severe turbulence as it approached Atlanta, the airline said.
Both passengers and crew members were injured after Delta Flight 175 from Milan, Italy, "experienced severe turbulence" before landing safely in Atlanta on Tuesday, the airline said in a statement.
The severity of the injuries was not immediately clear. Delta did not immediately respond to a request from NBC News for further information.
The plane was about 40 miles northeast of Hartsfield-Jackson Atlanta International Airport when the crew reported severe turbulence, according to the Federal Aviation Administration, which said it will investigate.
The Airbus A350 landed safely at the airport shortly before 7 p.m., according to The Associated Press.
There were 151 passengers and 14 crew members on board, the airline said.
First responders met the aircraft upon arrival to provide medical attention and transport the injured to a hospital, it said.
Delta noted that U.S. Customers and Border Protection ensured passengers needing medical attention were "appropriately cleared."
The airline said it was working to connect with customers who were on board the flight.
Source: https://www.nbcnews.com/news/us-news/delta-flight-severe-turbulence-atlanta-11-people-taken-hospital-rcna102495
Related Posts