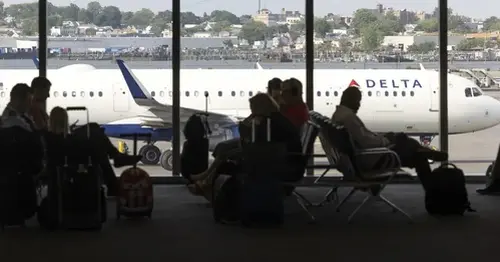 Delta makes more tweaks to frequent flyer program after backlash
Delta Air Lines is trying to appease flyers who were angry about changes to its loyalty programs.
But the company isn't undoing the changes it announced last month. Starting next year, rewards will depend on how much money flyers spend on Delta flights instead of how many flights they take or the number of miles they fly. That means customers will have to spend much more money to earn the rewards that come with Medallion status.
However, Delta made it easier to reach those levels than it would have been under the first version of the plan. Whereas Delta had originally proposed requiring people to spend 6,000 "qualifying dollars" to reach the lowest status, Silver, it will now take 5,000.
The current rules have flyers reaching Silver status if they take 30 flights or reach a combination of 3,000 qualifying dollars and points.
Delta says that because it has reduced the mileage thresholds, spending on car rentals and hotels will no longer count toward the spending totals. And spending on basic economy trips will still not count toward Medallion status.
Delta also says it will limit the number of times American Express Platinum Card and Delta Reserve American Express Card users can visit airport lounges, although it eased those limits compared to last month, as well.
The previous changes angered some Delta customers and prompted other brands to announce offers to win away their business. American Airlines also announced changes to its frequent flyer program this year.
Source: https://www.nbcnews.com/business/travel/delta-frequent-flyer-program-changes-reversed-details-rcna121237
Related Posts