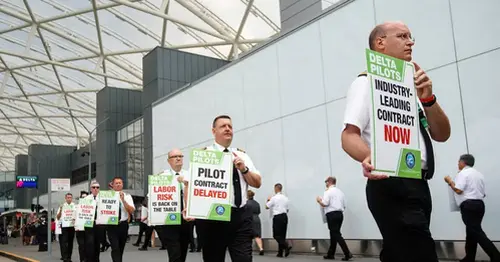 Delta pilots approve new contract with 34% raises
Delta Air Lines pilots on Wednesday approved a new contract that includes 34% raises over four years and other improvements as the industry faces a protracted shortage of aviators and strong travel demand.
Delta and the pilots' union had reached a preliminary agreement in December. Wednesday's ratification makes the Atlanta-based airline the first of the largest U.S. carriers to finalize a labor agreement with its 15,000 pilots since the pandemic began. 
United, American and Southwest pilots' unions are still in negotiations though Delta's deal could spur other agreements.
Wrong turn by pilot led to near-collision at JFK runway
Jan. 17, 2023
03:24
Delta's pilots' union, the Air Line Pilots Association, said the contract won support from 78% of pilots.
The start of the Covid pandemic three years ago had delayed negotiations at major airlines. Travel demand has since rebounded, and airline executives have said pilot shortages have limited capacity growth, a factor that has kept airfares high.
"The pilots as a whole are striking when the iron is hot," said Savanthi Syth, airline analyst at Raymond James. "They probably realize this is the best moment in time to get a deal done."
In January, Delta said that even with "all expected labor cost increases" it expects a drop of up to 4% in nonfuel costs.
The new four-year contract includes 18% raises on date of signing, then 5% next year, 4% in 2025 and 4% in 2026.
Contract talks between airlines and labor unions have been fraught at times, as aviators seek higher pay and better schedules. Delta's pilots last year voted in favor of allowing the union to authorize a strike when contract talks hadn't yielded an agreement, and the airline's pilots picketed several times.
More from CNBC
Activist investor Elliott nominates slate of directors to Salesforce board, sources say
Motorola confirms a new foldable version of the iconic Razr smartphone is coming this year
Kohl's posts surprising holiday-quarter loss, offers weak sales outlook
Alaska Airlines pilots won raises in their latest labor deal last year. JetBlue Airways and Spirit Airlines, which are awaiting a government response to their planned merger, have each struck deals with their pilots recently.
Source: https://www.nbcnews.com/business/travel/delta-pilots-approve-new-contract-34-raises-rcna72911
Related Posts