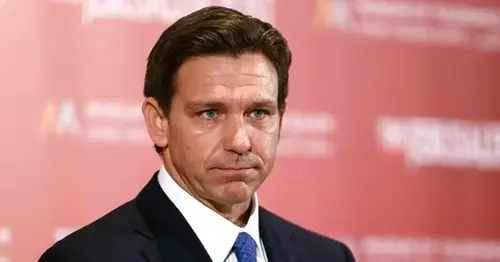 DeSantis dismisses Disney lawsuit over loss of self-governance as 'political'
Florida Gov. Ron DeSantis on Thursday brushed off a lawsuit by the Walt Disney Co. over the revocation of its Orlando-area theme park's self-governing privileges as politically motivated.
"I don't think the suit has merit. I think it's political," DeSantis said during a news conference in Jerusalem as part of a trip his office described as an "international trade mission."
"I think they filed in Tallahassee for a reason, because they're trying to generate some district court decision," the governor said. "But we're very confident on the law."
In its lawsuit, filed Wednesday in federal court, Disney accused DeSantis and other officials of engaging in a "targeted campaign of government retaliation" after the company publicly opposed a state law that aimed to ban the discussion of gender identity and sexual orientation in classrooms up to third grade. DeSantis signed the legislation, which critics call the "Don't Say Gay" bill, last year.
The lawsuit escalates the feud between Disney and DeSantis that has led to his push to strip Walt Disney World's self-governing privileges. In February, Florida assumed control of Disney World's self-governing district and DeSantis appointed a new board of supervisors to oversee the special tax district, which encompasses the theme park and resort property.
After DeSantis made clear he was going to get rid of the old board, its members passed an agreement to thwart him by maintaining self-governance with Walt Disney World, not the new board — a move that angered the governor.
The company filed its lawsuit shortly after the new DeSantis-appointed governing board passed a resolution to void the agreement, allowing the theme park and resort to keep control over much of its business operations.
Disney, in its lawsuit, alleges that a retaliation campaign was "orchestrated at every step by Governor DeSantis as punishment for Disney's protected speech" and "now threatens Disney's business operations, jeopardizes its economic future in the region, and violates its constitutional rights."
In his remarks Thursday, DeSantis, who is expected to announce his 2024 presidential bid as soon as mid-May, criticized Disney's self-governing privileges as allowing it to get away with "no accountability, no transparency, none of that."
"And that arrangement was not good for the state of Florida," he said. "We did not think that that should continue. So we now have brought accountability."
DeSantis argued that Disney's self-governing privileges go against being "pro-business."
"That is not what a free market is all about. Last I checked, in fact, they've been treated much different than Universal, SeaWorld and all these other places," he said. "And so they're upset because they're actually having to live by the same rules as everybody else."
"They don't want to have to pay the same taxes as everybody else," he added. "And they want to be able to control things without proper oversight, whereas every other Floridian has to have this type of oversight, all Florida businesses. So it's a little bit much to be complaining about that."
Lawyers for the Walt Disney Co. did not immediately respond to NBC News' request for comment.
DeSantis also dismissed NBC News' reporting that he is set to declare his presidential run next month, insisting "there's not been any decisions." The Florida governor, however, noted the support he had from voters in the Disney area during his re-election campaign.
Source: https://www.nbcnews.com/politics/politics-news/desantis-brushes-disney-lawsuit-control-self-governing-district-politi-rcna81727
Related Posts