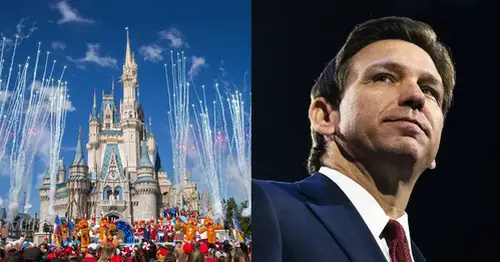 Disney sues Florida Gov. Ron DeSantis over control of Reedy Creek
The Walt Disney Co. on Wednesday filed a lawsuit in federal court against Florida Gov. Ron DeSantis and other officials alleging a "targeted campaign of government retaliation" after the company publicly opposed a state law that critics call "Don't Say Gay."
Disney and DeSantis have been embroiled in a feud over Walt Disney World's self-governing privileges in the Orlando area, which the possible Republican presidential contender has threatened to revoke. The corporation is one of the state's largest employers and a key driver of tourism.
The power struggle started when Disney, under then-CEO Bob Chapek, criticized the Florida government for a state education law that opponents have dubbed "Don't Say Gay." DeSantis signed the bill into law in March 2022 amid growing speculation that he might challenge former President Donald Trump for the 2024 GOP nomination.
Disney's lawsuit, filed in U.S. District Court for the Northern District of Florida, dramatically escalates the fight. The company alleges that a retaliation campaign was "orchestrated at every step by Governor DeSantis as punishment for Disney's protected speech" and "now threatens Disney's business operations, jeopardizes its economic future in the region, and violates its constitutional rights."
"Disney regrets that it has come to this," the company said in the first section of the lawsuit. "But having exhausted efforts to seek a resolution, the Company is left with no choice but to file this lawsuit to protect its cast members, guests, and local development partners from a relentless campaign to weaponize government power against Disney in retaliation for expressing a political viewpoint unpopular with certain State officials."
In a statement to NBC News, a spokesperson for DeSantis said: "We are unaware of any legal right that a company has to operate its own government or maintain special privileges not held by other businesses in the state. This lawsuit is yet another unfortunate example of their hope to undermine the will of the Florida voters and operate outside the bounds of the law."
The California-based corporation announced it had filed suit just minutes after a local governing board appointed by the conservative governor passed a resolution to void an agreement that allowed the Walt Disney World theme park and resort to keep control over much of its business operations in Florida.
"Disney was openly and legally granted a unique and special privilege, that privilege of running its own local government," Alan Lawson, a former Florida Supreme Court justice whose firm was hired by the DeSantis-appointed board, said during the board meeting. "That era is ending."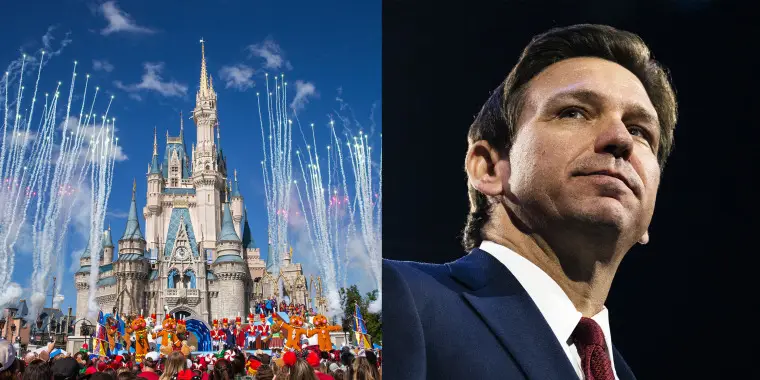 How Disney and DeSantis got here
The legislation at the root of the conflict, the Florida Parental Rights in Education law, bans classroom lessons on sexual orientation and gender identity in early grades. Chapek, the former Disney CEO, publicly criticized the legislation last year after employees and LGBTQ advocates pressed him to take a more forceful stand.
In response, Florida assumed control of Disney World's self-governing district and tapped a new board of supervisors that would oversee the special tax district that encompasses the theme park and resort property.
Disney then fired back at the Central Florida Tourism Oversight District board with an agreement that essentially stripped the supervisors of their power.
The board said earlier Wednesday that Disney's move to keep control over its property was unlawful.
Source: https://www.nbcnews.com/business/business-news/disney-sues-ron-desantis-over-reedy-creek-control-rcna81587
Related Posts