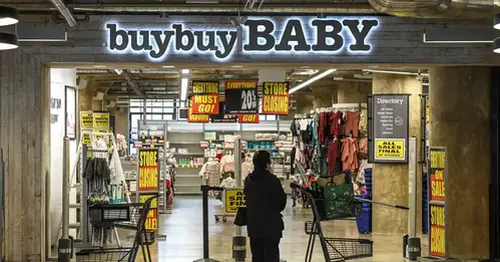 Doubt grows over Buy Buy Baby sale process as parent Bed Bath & Beyond splits auction
Bed Bath & Beyond is splitting the bankruptcy-run auction of its Buy Buy Baby chain into two phases as the retailer struggles to nail down bids in a sale process now shrouded in doubt.
An auction for all of Buy Buy Baby's assets was originally scheduled for 10 a.m. ET Wednesday. Now, only bids for the chain's intellectual property, including its trademark and domain, will be accepted, according to people familiar with the matter.
The failed home goods retailer is planning to host a separate auction, potentially Thursday, where buyers can submit bids to keep Buy Buy Baby and its stores running, said the people, who weren't authorized to speak publicly on the matter.
An initial winner will likely be chosen during Wednesday's intellectual property auction. That bidder and other suitors can participate in the second auction. If Bed Bath & Beyond receives a higher offer for the entire banner than it gets for the intellectual property, that bidder could be selected and supersede the winner of Wednesday's auction, the people said. 
The decision to split up the bidding comes after the retailer held separate sale proceedings for its Buy Buy Baby and Bed Bath & Beyond banners. 
More from CNBC:
First Republic employees are fleeing JPMorgan after the regional bank's acquisition
Inflation, interest rates likely to be stickier than markets are pricing, says Goldman's Oppenheimer
Ocado is 'flipping grocery operations on its head,' analyst says
The move, considered unusual in the world of bankruptcy, allows Bed Bath & Beyond to boost bids for its Buy Buy Baby chain as doubts grow about what, if any, offers will come in, some of the people said.
The banner, which sells baby goods such as strollers, clothes and cribs, has long been considered the crown jewel of Bed Bath & Beyond's assets. It attracted interest from numerous bidders both before and after its parent company declared bankruptcy. Some prospective buyers considered keeping stores open. 
But as the auction drew nearer, interest in keeping those stores alive waned and the retailer has struggled to nail down bids in an increasingly uncertain sale process, some of the people said.
Bidders interested in purchasing Buy Buy Baby and operating its brick-and-mortar stores and online presence would need to purchase the bulk of its 100-plus locations to reach profitability. 
The expenses behind running the stores, such as leases, overhead costs and salaries, make it difficult to reach profitability if a buyer acquires only a fraction of Buy Buy Baby's doors along with its intellectual property. 
"There's not a profitable model where you only have 10 stores or 40 stores," a person with knowledge of the matter previously told CNBC. 
Bed Bath & Beyond did not respond to CNBC's request for comment.
A credit bid from pre-bankruptcy lender Sixth Street Partners, which could team up with an e-commerce platform, is considered a top contender, some of the people said. It's unclear if the offer will go beyond the intellectual property assets. Sixth Street Partners did not respond to CNBC's request for comment.
Go Global Retail — which owns the children's wear brand Janie and Jack — was initially interested in keeping Buy Buy Baby stores open, but the number of locations it was interested in saving has since dwindled to about 20 stores, if any at all, CNBC previously reported. 
Direct-to-consumer online registry Babylist has submitted a bid to acquire some of Buy Buy Baby's assets, such as its domain name and trademark, but opted out of bidding for its stores, CEO Natalie Gordon previously told CNBC.
Source: https://www.nbcnews.com/business/business-news/doubt-grows-buy-buy-baby-sale-process-parent-bed-bath-splits-auction-rcna91693
Related Posts