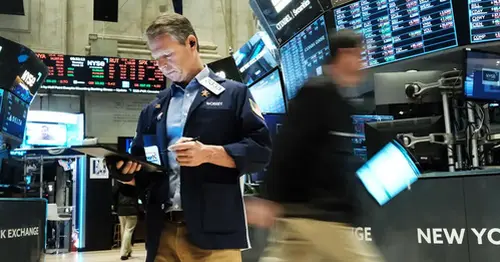 Dow closes nearly 400 points lower as First Republic and regional banks resume slide
Stocks fell Friday as investors pulled back from positions in First Republic and other bank shares amid lingering concerns over the state of the U.S. banking sector.
The Dow Jones Industrial Average lost 384.57 points, or 1.19%, to close at 31,861.98 points. The S&P 500 slid 1.10% to end at 3,916.64 points, while the Nasdaq Composite was down 0.74% to 11,630.51 points.
First Republic slid nearly 33% to end the week down close to 72%. That marked a turn from Thursday's relief bounce, which came when a group of banks said it would aid First Republic with $30 billion in deposits as a sign of confidence in the banking system. Friday's nosedive weighed on the SPDR Regional Banking ETF (KRE), which lost 6% in the session and finished the week 14% lower.
DOJ and SEC open investigations into cause of bank failures
March 15, 2023
02:57
U.S.-listed shares of Credit Suisse closed down nearly 7% as traders parsed through the bank's announcement that it would borrow up to $50 billion francs, or nearly $54 billion, from the Swiss National Bank. The stock lost 24% over the course of the week.
Despite the down session, the S&P 500 advanced 1.43% this week. The Nasdaq Composite gained 4.41% as investors bet on technology and other growth names ahead of next week's Federal Reserve policy meeting. It was the best week since Jan. 13 for the tech-heavy index. But Friday's slide pulled the Dow into negative territory for the week, finishing 0.15% down.
Bank stocks have been closely followed by investors in recent days amid fears that others could face the same fate as Silicon Valley Bank and Signature Bank, which were both closed within the last week. The market has been responding to the latest developments in the sector after regulators said over the weekend that they would backstop deposits in the two banks.
More from CNBC
Fed poised to approve quarter-point rate hike next week, despite turmoil
Fed loans helped stabilize 'deposit flows' at regional banks, Treasury says
Google nixes paying out remainder of maternity and medical leave for laid-off employees
Investors pulled back on Friday ahead of what could potentially be an eventful weekend as the bank crisis plays out, said Keith Buchanan, senior portfolio manager at Globalt Investments.
"There's nervousness into the weekend of: How does this all look on Monday?" he said. "The market is nervous about holding stocks into that."
The shakeup arrives at a time when investors are looking ahead to the Federal Reserve's upcoming meeting on March 21-22. The question on the minds of traders is whether the central bank will proceed with an expected 25 basis point hike even as banking woes whiplash the market.
Source: https://www.nbcnews.com/business/business-news/dow-closes-nearly-400-points-lower-first-republic-regional-banks-resum-rcna75556
Related Posts