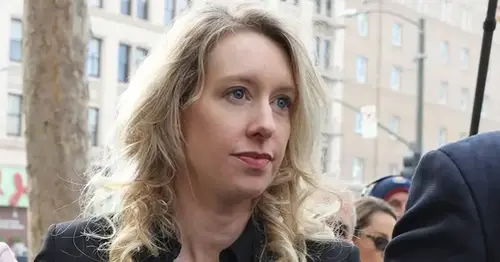 Elizabeth Holmes calls prosecutor's claim she tried to flee the U.S. after fraud conviction 'baseless'
Elizabeth Holmes, founder of disgraced blood testing startup Theranos, told a judge Monday the U.S. government's accusations that she attempted to flee after she was convicted of fraud were "baseless" and "inaccurate."
Holmes was convicted on four counts of fraud in Jan. 2022 and sentenced last fall to more than 11 years in prison.
Last week, in a filing related to deliberations about whether Holmes was a flight risk, the government said that after her conviction, Holmes still had in her possession a one-way ticket to Mexico that officials only learned about three days prior to her departure date.
Prosecutors characterized the itinerary as "an attempt to flee the country shortly after she was convicted."
But an accompanying document from one of Holmes' attorneys explained that the ticket had been purchased prior to her conviction.
Monday's filing accused the government of leveling what it characterized as a false accusation.
"The government's newfound claim that Ms. Holmes attempted to flee is baseless," Holmes' attorneys write. "If the government thought she had, the Court, Pretrial Services, and the Probation Office would have heard she was a flight risk during the three years prior to trial and the year since Ms. Holmes' conviction."
They add that Holmes had already surrendered her passport, which "has been expired for years." Holmes has also been in frequent contact with multiple pretrial services officers, they write. "She has a flawless pretrial services record," they said.
As an explanation for the scheduled trip, the attorneys write that Holmes "hoped to be acquitted," at which point she'd be able to attend the wedding of close friends in Mexico in late January 2022. Her partner, William Evans, booked flights for himself and Holmes in December 2021, before the verdict.
"Once the verdict was issued, Ms. Holmes did not intend to make the trip," they write — and that, regardless, there was no way she could have gone, given the conditions of her release.
Additionally, they note, "when the government inquired, defense counsel quickly responded and explained the situation, and Mr. Evans canceled the ticket."
"'I do not believe there is need for us to discuss this further, but I will certainly be in touch if that changes, and please feel free to reach out if you disagree,'" lead prosecutor Jeffrey Schenk wrote to Holmes lawyer Lance Wade on January 23, 2022, Holmes' attorneys said. 
Finally, Holmes' attorneys accuse the government prosecutors of misrepresenting Evans' itinerary, stating that he returned from Mexico through Tijuana four days after leaving for Mexico; the government had originally accused him of leaving for Mexico and returning six weeks later, from a different continent.
"Counsel for Ms. Holmes brought these inaccuracies to the government's attention by email on January 20, 2023, and requested the government correct them," they write. "As of this filing, the government has neither responded nor corrected the inaccuracies."
The lawyers add that the accusations "have been widely reported in the press and already have produced negative effects for Ms. Holmes and her partner beyond this case," without elaborating.
Source: https://www.nbcnews.com/business/business-news/elizabeth-holmes-did-not-try-to-flee-us-after-conviction-attorneys-say-rcna67172
Related Posts