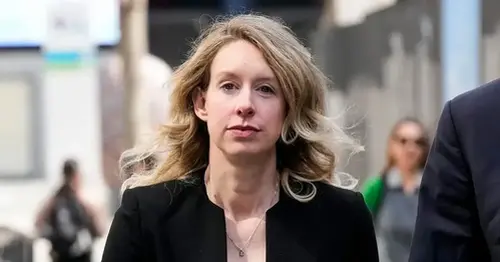 Elizabeth Holmes launches appeal of 'unjust' conviction in Theranos fraud case
Elizabeth Holmes, founder of the blood-testing lab Theranos, has filed an appeal of her January 2022 conviction on four counts of fraud in connection with her time as chief executive of the company.
In a 132-page filing Monday, Holmes and her lawyers argue the federal prosecutor's case against her "parroted the public narrative" that she knowingly and intentionally misrepresented to investors the capabilities of Theranos technology.
"But the reality differed significantly from that narrative," Holmes' attorneys say. "Highly credentialed Theranos scientists told Holmes in real time the technology worked. Outsiders who reviewed the technology said it worked. Theranos' groundbreaking developments received many patents. And in 2015 the U.S. Food & Drug Administration (FDA) approved an assay on Theranos' proprietary technology."
The lawyers also argue the government committed violations during its prosecution — ones that the District Court Judge Ed Davila nevertheless "indulged" as he "abus[ed]" his discretion, according to the filing.
Along with the exclusion of key testimony from Holmes' co-defendant, Sunny Balwani, during which they argue that Balwani implicated himself in running the company's finances, the jury's guilty verdict for Holmes was "unjust," the lawyers write.
Should no new trial be ordered, Holmes and her attorneys are also seeking a reduction to her sentence of more than 11 years in prison, which they called "severe" and erroneously decided.
Holmes' appeal comes one week after Davila rejected her bid to stay out of prison while it is being heard. In that decision, Davila ruled the appeal was unlikely to be successful, noting Holmes' "misrepresentations to Theranos investors involved more than just whether Theranos technology 'worked as promised.'"
Holmes, Davila said, also misrepresented "the company's financial status, reliance on third-party and commercially available devices, partnership with Walgreens, and validation by pharmaceutical companies."
"In light of the breadth of misrepresentations at issue," Davila said, there is no single potential error committed by the court that would likely result in a verdict reversal or new trial.
Source: https://www.nbcnews.com/business/business-news/elizabeth-holmes-appeals-conviction-theranos-fraud-rcna80488
Related Posts