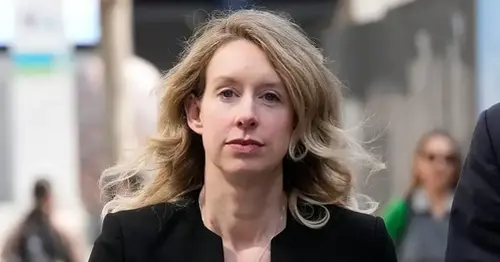 Elizabeth Holmes objects to restitution proposal that includes $250 monthly payments after prison release
The defense for disgraced biotech mogul Elizabeth Holmes, who once had an estimated net worth of $4.5 billion, is objecting to proposed changes in her case that include $250 monthly payments to victims.
In a filing in federal court in California, the team argued that implementing prosecutors' proposed restitution schedule would amount to a significant modification to the outcome of Holmes' fraud trial.
In November, Holmes, 39, was sentenced to more than 11 years in federal prison for misleading investors about the speed, convenience and capability of high-tech blood tests developed by the Silicon Valley company she ran, Theranos.
The San Jose federal court found that she and Theranos Chief Operating Officer Ramesh Balwani, convicted in a separate trial of 12 counts of fraud and conspiracy, are liable for covering more than $452 million in investor losses.
Holmes is appealing the decision; Balwani has been unsuccessful in his appeals.
Prosecutors filed a motion last Wednesday "to correct judgements" that noted the court's latest modification to the case included "clerical errors" that included the absence of a restitution payment schedule.
Government lawyers proposed, among other things, adding a schedule of monthly payments of at least $250 or 10% of her earnings, whichever is greater, according to the filing.
They argued that is what the court "intended" in finding Holmes and Balwani responsible for investor losses, according to the government's filing.
"The government proffers a guess as to what 'the Court intended,'" the defense team said in its filing.
In the document, Holmes' lawyers called the proposal an "attempt to manufacture a record that does not exist."
Both sides seem to agree that the process allows for changes in restitution if a convict's financial situation changes significantly, but Holmes' team argues the government has offered no evidence of such a change for Holmes.
In its filing Monday, the Holmes defense team said, "The Court had before it substantial evidence showing Ms. Holmes' limited financial resources."
Lawyers for both sides did not immediately respond to requests for comment.
In May, Forbes, which once estimated Holmes had a net worth of $4.5 billion, reduced her estimated net worth to $0. Before she reported to federal prison in Texas last month, she was living with her partner, Billy Evans, and their two young children in the San Diego area.
Source: https://www.nbcnews.com/news/us-news/elizabeth-holmes-objects-restitution-proposal-includes-250-monthly-pay-rcna89173
Related Posts