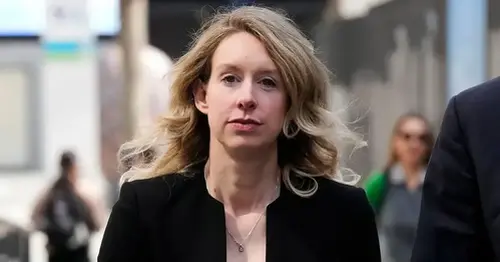 Elizabeth Holmes' sentence delayed, keeping convicted former Theranos chief out of prison for now
The imprisonment of former Theranos CEO Elizabeth Holmes has been automatically delayed after she appealed a lower court's decision to deny her release while she appeals her original fraud conviction.
The 9th U.S. Circuit Court of Appeals' stay of Holmes' prison term came after Holmes sought to overturn District Judge Edward Davila's April 11 decision to reject her plea for release.
Holmes, who received an 11-year sentence, was slated to report to a minimum-security prison Thursday near Houston.
In a filing late Tuesday, Holmes' lawyers state Davila's decision to reject her release contained "numerous, inexplicable errors," including references to "patient fraud convictions," even though the jury acquitted Holmes on those counts.
Holmes was convicted in January 2022 of four counts of wire fraud charges. In November, she was sentenced to more than 11 years in a federal penitentiary.
While Tuesday's motion keeps Holmes out of prison for now, it may only be a brief reprieve. Holmes' mentor and former boyfriend, Ramesh "Sunny" Balwani, convicted in a separate trial last year, also sought to remain free pending his appeal, and he appealed to the Ninth Circuit when Davila denied his motion.
But the appeals court turned down his request. Last week, Balwani, 57, reported to a low-security federal prison in Los Angeles to begin serving his nearly 13-year sentence.
Source: https://www.nbcnews.com/business/business-news/elizabeth-holmes-prison-sentence-delayed-remains-free-pending-appeal-rcna81578
Related Posts