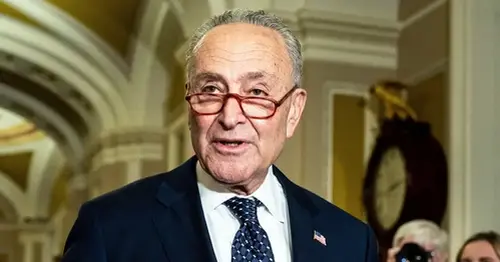 Elon Musk meets with Schumer to discuss artificial intelligence
Elon Musk visited Capitol Hill on Wednesday to meet with Senate Majority Leader Chuck Schumer for a discussion that focused on artificial intelligence.
Democrats and Republicans are pushing for new regulations in the tech industry to address a growing array of issues, such as generative chatbots and concerns over deep fakes and voice phishing scams.
Asked about the meeting, Musk said: "It was good. We talked about the future."
Pressed for specifics, he said they spoke about "AI and the economy."
Schumer, D-N.Y., characterized it as a "good meeting."
"We talked about Buffalo. Tesla has a large plant in Buffalo. And we talked about AI," Schumer told reporters.
Schumer said this month that he had circulated a "framework" for rules to help the U.S. stay competitive with China on the regulatory front and put new restrictions on potentially harmful AI tools.
In a statement at the time, Schumer said, "I look forward to working across the aisle, across the industry and across the country and beyond to shape this proposal and refine legislation to make sure AI delivers on its promise to create a better world."
It wasn't the first time Musk has met with lawmakers. In January, he tweeted about having met with House Speaker Kevin McCarthy, R-Calif., and Minority Leader Hakeem Jeffries, D-N.Y.
Source: https://www.nbcnews.com/politics/congress/elon-musk-meets-schumer-discuss-artificial-intelligence-rcna81696
Related Posts