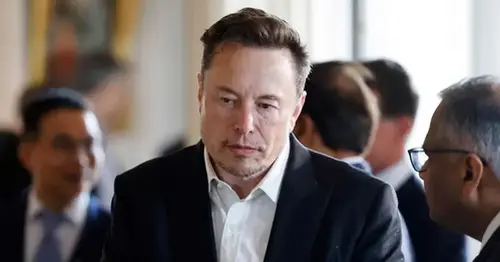 Elon Musk to be subpoenaed for documents in Virgin Islands' Epstein lawsuit against JPMorgan
The U.S. Virgin Islands issued a subpoena to Tesla CEO Elon Musk seeking documents for that government's lawsuit against JPMorgan Chase over sex trafficking by the bank's late longtime customer Jeffrey Epstein, a court filing revealed Monday.
That filing said the Virgin Islands has tried unsuccessfully to serve Musk with the subpoena, which was issued on April 28, because of suspicion that Epstein "may have referred or attempted to refer" Musk as a client to JPMorgan.
The U.S. territory asked Manhattan federal court Judge Jed Rakoff in the filing to allow it to serve Musk with the subpoena with Tesla's registered agent.
That subpoena demands Musk turn over any documents showing communication involving him, JPMorgan and Epstein, as well as "all Documents reflecting or regarding Epstein's involvement in human trafficking and/or his procurement of girls or women for consensual sex."
Ghislaine Maxwell sentenced to 20 years in prison for conspiring to sexually abuse minors 
June 29, 2022
04:32
The Virgin Islands is suing JPMorgan for allegedly enabling and benefiting from Epstein's trafficking of young women to his private island in the territory to be abused by him and others.
JPMorgan denies the government's claims, which are mirrored in a separate pending civil lawsuit in Manhattan federal court by a woman who says Epstein sexually abused her. JPMorgan CEO Jamie Dimon is due to be deposed for both lawsuits beginning on May 26.
A May 4 court filing by the Virgin Islands revealed the government had issued a similar subpoena for documents to Google co-founder Larry Page, and that it likewise was having difficulty locating Page.
And the territory previously issued subpoenas to Page's fellow Google co-founder Sergey Brin, former Disney executive Michael Ovitz, Hyatt Hotels executive chairman Thomas Pritzker and Mort Zuckerman, the billionaire real estate investor.
In Monday's filing, the Virgin Islands said, "Upon information and belief, Elon Musk — the CEO of Tesla, Inc., among other companies — is a high-net-worth individual who Epstein may have referred or attempted to refer to JPMorgan." In addition to being CEO of Tesla, Musk is head of SpaceX and owner of Twitter.
The government said that it had hired an investigative firm to try to locate an address from Musk, and also contacted one of his lawyers.
That lawyer in past federal cases has waived the requirement of him being personally served with legal documents, according to the filing.
"The Government contacted Mr. Musk's counsel via email to ask if he would be authorized to accept service on Mr. Musk's behalf in this matter but did not receive a response confirming or denying his authority," the filing said.
Musk did not immediately respond to a request for comment by CNBC.
More from CNBC
Target wants shoppers to buy groceries, as retailer braces for leaner spending
What Home Depot's poor outlook means for the stock market and economy
Vodafone shares drop 7% after record 11,000 jobs cut as CEO says telco 'must change'
But on Monday night, Musk did reply to a Twitter user, @unusual_whales, who had tweeted this article.
"This is idiotic on so many levels," Musk wrote in his Twitter reply. "1. That cretin never advised me on anything whatsoever. 2. The notion that I would need or listen to financial advice from a dumb crook is absurd."
"3. JPM let Tesla down ten years ago, despite having Tesla's global commercial banking business, which we then withdrew," Musk wrote. "I have never forgiven them."
In 2018, Epstein told The New York Times writer James Stewart that he had been advising Musk after the Securities and Exchange Commission opened a probe into Musk's comments about taking the company private.
When the Times reached out to Tesla for comment, the company strongly denied that claim, saying, "It is incorrect to say that Epstein ever advised Elon on anything." Epstein had predicted to Stewart that "everyone at Tesla would deny talking to him or being his friend," according to an article about their interview.
Epstein, a former friend of Donald Trump, Bill Clinton and Prince Andrew of Britain, was a customer of the bank from 1998 through 2013. In 2008, he pleaded guilty to a state charge in Florida of soliciting sex from an underage girl.
Source: https://www.nbcnews.com/business/business-news/elon-musk-subpoenaed-documents-virgin-islands-epstein-lawsuit-jpmorgan-rcna84612
Related Posts