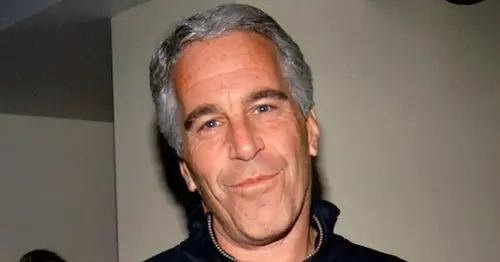 Epstein referred former Obama White House counsel to JPMorgan as client
Disgraced financier Jeffrey Epstein referred former Obama White House counsel Kathryn Ruemmler to JPMorgan Chase as a client in 2019, months before he was arrested on charges related to federal sex trafficking, court documents showed. 
Epstein's assistant emailed JPMorgan Chase executive Mary Erdoes in February 2019 suggesting Ruemmler as a customer, according to an email filed as an exhibit. Ruemmler joined Goldman Sachs as a partner in 2020 and is now chief legal officer and general counsel there. 
"Jeffrey wanted me to reach out to you re his very good friend and former White House counsel to Pres. Barack Obama, Kathy Ruemmler," his assistant wrote in the email. "She would like to open an account with JPM. Jeffrey requests she deal with you personally. Might this be possible?"
Erdoes responded a few days later writing, "I don't handle accounts myself but we will definitely get her in the right hands. I will reach out to her. Thanks for sharing."
His assistant replied, "Mary, Jeffrey just thought that Kathy is one of the most powerful women in Washington and thought you two would bond." 
The revelation of Epstein's client referral to the financial institution came six years after the bank said it terminated the convicted sex offender as a client in 2013. JPMorgan Chase was Epstein's banker for 15 years, starting in 1998. 
In 2008, Epstein was convicted of procuring a child for prostitution.
His client referral came five months before he was arrested and charged with sex trafficking by federal prosecutors. Epstein died by suicide shortly after at a New York City correctional center while awaiting trial. 
Ruemmler didn't immediately respond to NBC News' request for comment Friday, and Goldman Sachs declined to comment.
Erdoes declined to comment through a JPMorgan Chase spokesperson. 
The U.S. Virgin Islands sued the bank last year alleging it facilitated the disgraced financier's sex trafficking enterprise and failed to flag suspicious financial activity. The Wallstreet giant has denied liability. 
A trial is scheduled for October.  
The territory said the banker who handled Epstein's accounts was given permission to continue a relationship with Epstein after 2013 as "a potential source of referrals," according to court documents. Epstein was also the bank's private wealth division's "top revenue generator" in 2003, bringing in more than $8 million, court filings showed. 
The banker met with Epstein at least eight times, according to court documents filed by the U.S. Virgin Islands. 
In former JPMorgan Chase executive Jes Staley's deposition for the lawsuit, he said Epstein referred several ultra-wealthy clients to the financial institution, including Google co-founder Sergey Brin, Microsoft co-founder Bill Gates and former Treasury Secretary Larry Summers.
"Mr. Gates was never a client of JPMorgan," said a spokesperson for Bill Gates. 
In 2014, JPMorgan Chase said Brin's relationship was "one of the largest in the Private Bank," amounting to over $4 billion, according to internal bank documents filed as exhibits. 
Staley — who was head of the asset and wealth management at JPMorgan Chase — said in his deposition that he spoke to the bank's CEO Jamie Dimon in 2006 about Epstein's being indicted for procuring a child for prostitution in Florida. Staley said he told Dimon, because Dimon was his boss and Epstein was a client of the bank, adding that the indictment was a "very public event." 
Dimon said in his deposition in May that he had never met the disgraced financier and never even heard of him until Epstein's 2019 arrest.
"There is no evidence that any such communications ever occurred — nothing in the voluminous number of documents reviewed and nothing in the nearly dozen depositions taken, including that of our own CEO. The one person who claims this to be true is currently accused of horrific acts and dishonesty," said a JPMorgan Chase spokesperson. 
The bank sued Staley in March, alleging he knew about Epstein's conduct and engaged in "sexual activity with young women procured by Epstein." The bank said in the lawsuit that Staley should be held liable for any financial penalties it faces from the suit brought by the U.S. Virgin Islands. A federal judge in May denied Staley's bid to dismiss the complaint.
Staley's attorney didn't immediately respond to NBC's request for comment.
Staley has called the accusations "baseless" but has expressed regret for his relationship with Epstein.
JPMorgan Chase isn't backing back down, adding in a court filing that former U.S. Virgin Islands Governor John de Jongh — who left office in January 2015 — asked Epstein for a $215,000 loan after he was arrested and accused of embezzling public funds in August 2015.
De Jongh said the money Epstein loaned him was used to settle his dispute with the government of the Virgin Islands, according to his deposition for the lawsuit. He said he paid Epstein back in 2016. The charges against de Jongh were later dropped. 
De Jongh's wife — former U.S. Virgin Islands first lady Cecile de Jongh — received more than $300,000 in a lump sum severance payment from Epstein's Southern Trust Company for her termination after he died by suicide in 2019, according to court documents filed by the Wallstreet giant.  
"JPMorgan Chase is the only party to this case that had real-time evidence of Jeffrey Epstein's ongoing crimes in its possession," said Venetia Velazquez, spokesperson for the Attorney General of the Virgin Islands. "Instead of following federal law which requires banks to share customers' suspicious activity with the proper authorities, JPMorgan executives helped Jeffrey Epstein conceal his suspicious banking activity from law enforcement."
Velazquez added, "in doing so, JPMorgan permitted Jeffrey Epstein's human trafficking scheme to go unchecked, allowing JPMorgan executives to continue to benefit from the new clients and revenue Epstein brought into the bank."
John and Cecile de Jongh did not immediately respond to NBC's request for comment. 
The U.S. Virgin Islands, where Epstein had owned two private islands within the territory, is seeking at least $190 million in damages from the bank.  
Source: https://www.nbcnews.com/news/us-news/epstein-referred-former-obama-white-house-counsel-jpmorgan-client-rcna100723
Related Posts