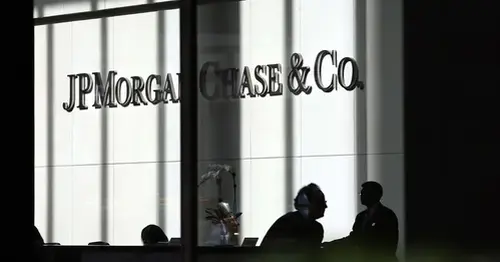 Epstein victims ask judge to approve $290 million settlement with JPMorgan
The victims of disgraced financier Jeffrey Epstein formally asked a U.S. federal judge in New York late Thursday to approve a $290 million settlement with JPMorgan Chase over allegations that the bank turned a "blind eye" toward Epstein's conduct and continued to finance him. 
Attorneys for the victims said the cash settlement is "within the range of reasonable resolutions" and is "adequate, and in the best interests" of their clients, according to a memorandum filed in the case in the U.S. District Court for the Southern District of New York.
The request comes after the Epstein victims and the Wall Street giant agreed last week to resolve a suit filed in federal court last year by a woman identified as "Jane Doe 1," who alleged the bank enabled Epstein's sex trafficking enterprise. 
The unnamed woman sued on behalf of a large number of Epstein victims. A judge overseeing the case ruled last week that it could move forward as a class-action lawsuit.
Epstein, who was convicted in 2008 of procuring a person under 18 for prostitution, was a JPMorgan Chase client for 15 years until the bank severed ties with him in 2013.
He died by suicide in 2019 at a New York City correctional center, where he was being held on federal sex-trafficking charges.
JPMorgan Chase has denied liability and said in a statement last week that it "would never have continued to do business with him if we believed he was using our bank in any way to help commit heinous crimes."  
New details on days leading up to Jeffrey Epstein's death revealed
June 2, 2023
02:32
If the judge approves the settlement, a claims administrator will be selected to administer the settlement to the victims, according to the court document. The parties recommended Simone Lelchuk, who was appointed as administrator for the Deutsche bank settlement with Epstein victims that amounted to $75 million. 
Lelchuk, the filing said, is in "a unique position to ensure cost efficiency that will allow the maximum amount of the settlement funds to be distributed" to the victims.
She will evaluate the victims' claims by considering the severity, type and length of their alleged abuse, their cooperation with investigations and litigation, and their extent of recovery in the Deutsche bank settlement, the court document said.
The victims' lawyers said they planned to request 30% of the settlement amount. The attorneys said they analyzed hundreds of thousands of documents, carried out 15 depositions of fact witnesses and four depositions of experts amid litigation, according to court document.
Any remaining amount will be distributed to a charity organization agreed upon by both parties. 
JPMorgan Chase's legal woes are far from over as it still faces a similar lawsuit filed by the U.S. Virgin Islands, where Epstein had a residence. The lawsuit is set to go to trial in October and seeks monetary damages. The bank has denied liability. 
Earlier this week, JP Morgan Chase alleged in a court filing that the Virgin Islands granted Epstein over $300 million in tax incentives and waived sex offender monitoring requirements in exchange for money and gifts to the territory's highest-ranking officials. 
Venetia Velazquez, a spokesperson for the USVI AG's office, said "JPMorgan Chase is yet again attempting to cherry-pick information to distract and shift blame away from its failure to share the information it had in its possession about Jeffrey Epstein's illegal activities."
The Virgin Islands alleges that JPMorgan Chase's CEO Jamie Dimon may have ordered the 2019 review of the bank's ties with Epstein, according to court documents filed this week. In Dimon's May deposition he said he had never met Epstein and never even heard of him until Epstein's July 2019 arrest.
This week, the Virgin Islands filed a trove of internal JPMorgan Chase emails as exhibits in the case, including an email written in July 2019 by the bank's financial crimes compliance head, saying that an "analysis" into the bank's relationship with Epstein was requested by "top of house."
The emails also included messages between Epstein and former JPMorgan Chase executive Jes Staley. The bank sued Staley in March saying he should be held liable for any financial penalties it faces from the lawsuits. He did not reply to a request for comment Friday.
JPMorgan Chase declined to comment Friday evening.
Source: https://www.nbcnews.com/news/us-news/epstein-victims-ask-judge-approve-290-million-settlement-jpmorgan-rcna90916
Related Posts