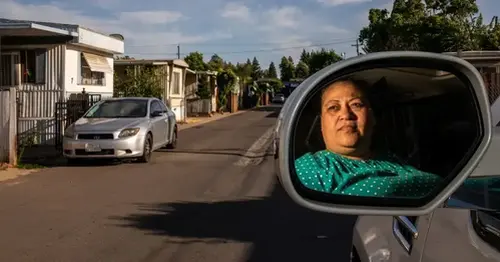 Evictions are on the rise, impacting many undocumented Latinos
Marta, an agricultural worker in Bakersfield, California, and a mother of six, is desperately trying to hold on to the apartment where she's been living with her family but, like a growing number of Americans, she's facing eviction.
"They have given me several notices that they are going to evict me, that they are going to take me to court, that they give me a few days. I have gone to talk to them to make small payments, because I also have to pay for electricity, gas and food, which is very expensive. And with all that, the truth is that there isn't much left of the check," Marta, who has fallen behind on her payments, said.
"I have been living there for almost eight years now and I have never been late. I have spoken so that they wait for me while I look for help and all that, but right now — everything has been delayed," said Marta, whose last name is being withheld since she lacks legal immigration status and fears repercussions for speaking out.
Each year, more than 2.7 million families in the U.S. are forced to leave their homes due to evictions. The number increased considerably after the end of the pandemic, when the federal government as well as many state and municipal governments offered rent help. Landlords started nearly 1 million eviction proceedings in 2022, an increase of 79% since 2021, according to data from the Eviction Lab, a Princeton University think tank that researches housing.
When it comes to evictions, the undocumented community is more vulnerable to abuse, said Juan Pablo Garnham, head of communications and policies for the Eviction Lab.
Those who lack legal status are often afraid to dispute a case in court for fear of being deported, he said. At the Eviction Lab, according to Garnham, they are aware of multiple cases of landlords who have discriminated against tenants because of their immigration status.
Yet there are no official statistics on the impact of evictions on those who are undocumented, he said. Informal evictions — that is, those that do not go through the legal process — are common among those who lack legal status and could be double the official number of evictions, Garnham said.
Marta is being counseled by Leadership Counsel, an advocacy organization based in Bakersfield focused on assisting low-income rural communities.
"We know that there are many people in the position that Marta is in," said Sandra Plascencia-Rodriguez, a policy advocate at the Leadership Counsel. "Rent is about $1,775 and people who work for minimum wage are getting paid $15 an hour, which means they make about $2,000 a month. So you have 200 and something left over after you pay your rent, but that's not sustainable." 
"We have seen many people seeking help. Technically they say that the pandemic is over, but prices continue to rise," she said.
Unai Montes-Irueste, director of communications for Housing California, an advocacy organization, said that rents are going up by at least 10% in California as they see an increase in evictions and threats of evictions.
The lack of affordable housing in California, Montes-Irueste said, greatly impacts Hispanics and, especially, undocumented seniors who already lived in overcrowded conditions with little access to public services.
"When you're over 50 years old, you can't manage four jobs, you can't work as much anymore, and you have more health problems," he said. "Within the population of people who are experiencing homelessness here in California, the largest and most severe increase that we have seen is in people who are over 50 years old and have nowhere to go."
According to a study by Home Bay, a real estate firm, California's six largest cities have homelessness rates 2.3 times the national average, while the cost of housing is nearly three times the national average.
Since California doesn't have enough low-income housing, people stay in places that aren't suitable for living and many landlords are not making the necessary repairs.
"There are people who are living with black mold inside their houses, a stove that doesn't work ... things that are necessary on a day-to-day basis and the owner does not want to fix them. Neither the state nor the local government is doing anything to help them," Plasencia-Rodriguez said.
Teresa Flores, who's also an agricultural worker in Bakersfield, said she's still paying monthly for an apartment she withheld rent for a few months, following extensive water damage that ruined most of her furniture and forced her to vacate. 
"I lived in that apartment for three years ... During the second year it began to get very wet from the rains, the carpet, the walls, everything. I notified the offices and they did nothing," said Flores, 60, a native of Guadalajara, Mexico. "I had to throw out my beds. I lasted almost a whole year sleeping on an armchair and without furniture, just paying rent ... everything was full of white things on all the windows."
Flores has lived in California for more than 40 years but is still not a legal U.S. resident. She said that her status as an undocumented migrant prevented her from demanding her rights.
Nady Peralta, an attorney at the Legal Aid Justice Center in Richmond, Virginia, said she tends to handle more cases like Flores now that federal and local pandemic aid resources are no longer available.
When facing eviction
Although the laws governing rent vary widely from state to state, the Eviction Lab's Garnham said that even without legal status, people have rights and can't be discriminated based on language or national origin.
"You don't have to leave your house until a judge orders you to," Garnham said. Before an eviction happens, experts say there are steps people should take. Garnham urges tenants to always "be very vigilant, save all papers, save all conversations, keep all texts, emails."
He also said people should seek help; there are free lawyers in some cities and community groups can guide people to find them.
It's also important to understand how the eviction process works. "The first thing I say is get informed," he said, urging people to seek out local resources before leaving their apartments if they've received eviction notices or have been asked to leave.
The mayor of Los Angeles, Karen Bass, has asked tenants who are in this situation "not to evict themselves" and for this reason they have created several assistance programs, one to pay up to six months' rent, another to find lawyers, and even one to defend themselves from the harassment of the owners.
The federal government has a toll-free number to report housing discrimination, 1-800-669-9777 and there's also a website in English and Spanish.
Source: https://www.nbcnews.com/news/latino/evictions-are-rise-impacting-many-undocumented-latinos-rcna99478
Related Posts