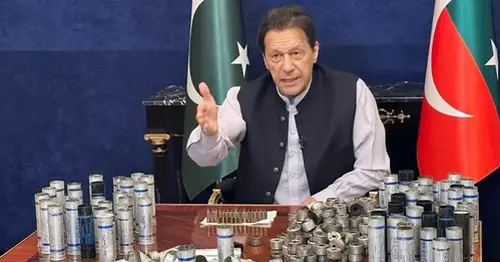 Ex-Pakistan PM Imran Khan appears in court as police raid home
Former Pakistan Prime Minister Imran Khan appeared in court on Saturday as police were entering his home and after he expressed fear of arrest in a standoff with the government that has led to intense clashes with his supporters.
Facing a spate of legal challenges, including one that prompted a failed attempt to arrest him on Tuesday, Khan was addressing charges in the court in the capital Islamabad of unlawfully selling state gifts given to him by foreign dignitaries while in office.
Hours earlier at his home in Lahore, the former cricket legend told Reuters he has formed a committee to lead his party if he is arrested.
He has led nationwide protests after his ouster from power last year and has had a spate of cases registered against him. The police unsuccessfully tried to arrest him on Tuesday.
Police entered his property after Khan entered the Islamabad court. Earlier this week, police and Khan's supporters clashed outside his home earlier during the arrest attempt.
Imran Khan says he's being treated like 'some lethal terrorist'
March 15, 2023
01:46
Khan, who was shot and wounded while campaigning in November, said in an interview the threat to his life is greater than before and asserted — without providing evidence — that his political opponents and the military want to block him from standing in elections later this year.
The military and government did not immediately respond to requests for comment.
Security was tight around the judicial complex where Khan, 70, arrived in a motorcade surrounded by supporters.
Source: https://www.nbcnews.com/news/world/ex-pakistan-pm-imran-khan-appears-court-police-raid-home-rcna75569
Related Posts