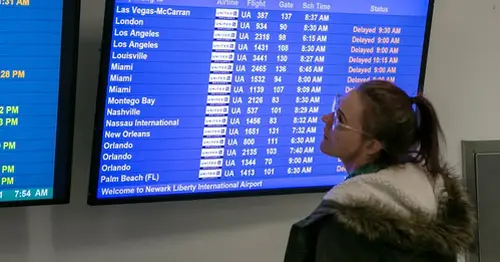 FAA outage: What you should do if your flight has been delayed or canceled
A technology issue at the Federal Aviation Administration temporarily grounded flights nationwide Wednesday.
It is territory infrequently traveled when it comes to the massive and complex U.S. flight system. Not since the terrorist attacks of Sept. 11, 2001, have all domestic flights been unable to take off.
So what should travelers do if their scheduled travel has been affected?
According to the U.S. Department of Transportation, "there are no federal laws requiring airlines to provide passengers with money or other compensation when their flights are delayed."
Instead, each airline has its own policies about what it will do for delayed passengers. The DOT advises that, if a flight is significantly delayed, customers should ask airline staff if the carrier will pay for meals or a hotel room — but neither of these are guaranteed.
FAA outage causes travel chaos nationwide
Jan. 11, 2023
03:30
If a flight has been delayed for more than two hours, or canceled, many airlines have policies that will kick in that allow passengers to get a full refund for the unused portion of their ticket. Other airlines will offer vouchers for future flights.
But because the ground stop Wednesday could be classified as a force majeure event, also known as an act of God outside the airline's control, each airline will ultimately decide what its passengers may be entitled to. The DOT's new passenger rights dashboard only applies to events that were within an airline's control.
United Airlines has activated a travel waiver for any customers who need to change their plans, including offering refunds for customers who no longer want to travel.
Southwest Airlines is rebooking customers on the next available Southwest flight with seats available to the customer's ticketed destination at no additional cost. The airline said customers who choose not to travel due to a cancellation or significant delay can receive a refund of the unused portion of the Southwest ticket upon request.
From a practical standpoint in this scenario, there is not much that passengers can do, short of hitting the road in a vehicle or jumping on a bus to their next destination. If they do so, it is not guaranteed that an airline will reimburse them for that expense.
Scott Mayerowitz, the executive editor of The Points Guy travel website, said that at this point, all anyone who expects to fly Wednesday can do is have patience.
"If the FAA can restart its system quickly, those passengers who are already at airports whose planes were waiting at gates and who have pilots and flight attendants should be on their way pretty quickly once the ground stop is lifted," he said.
Source: https://www.nbcnews.com/business/consumer/flight-delayed-canceled-what-should-i-do-who-to-call-rcna65259
Related Posts