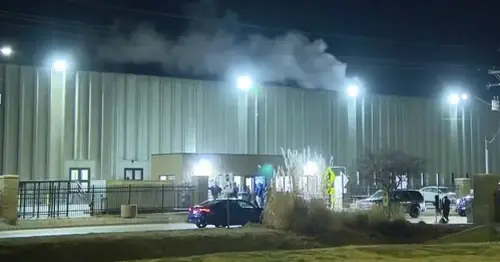 Federal officials say more than 100 children worked in dangerous jobs for slaughterhouse cleaning firm
The Labor Department said Friday it found 102 children as young as 13 working hazardous overnight jobs cleaning slaughterhouses in eight states in what it called a "corporate-wide failure" by one of the largest food sanitation companies in the country, Packers Sanitation Services Inc.
In a statement, the company said, "We are pleased to have finalized this settlement figure as part of our previously announced December resolution with the Department of Labor (DOL) that ends their inquiry. We have been crystal clear from the start: Our company has a zero-tolerance policy against employing anyone under the age of 18 and fully shares the DOL's objective of ensuring full compliance at all locations."
"As soon as we became aware of the DOL's allegations, we conducted multiple additional audits of our employee base. ... Our audits and DOL's investigation confirmed that none of the individuals DOL cited as under the age of 18 work for the company today, and many had separated from employment with PSSI multiple years ago. The DOL has also not identified any managers aware of improper conduct that are currently employed by PSSI."
"We are fully committed to working with DOL to make additional improvements to enforce our prohibition of employing anyone under the age of 18."
Packers Sanitation Services has paid a $1.5 million fine for the violations. The fine amount is dictated by the Fair Labor Standards Act, which allows a penalty of $15,138 for each minor who was employed in violation of the law, according to the Labor Department.
The Labor Department says the children who were working overnight shifts used "caustic chemicals to clean razor-sharp saws." The company employs 17,000 workers at 700 sites nationwide.
"Our investigation found Packers Sanitation Services' systems flagged some young workers as minors, but the company ignored the flags. When the Wage and Hour Division arrived with warrants, the adults — who had recruited, hired and supervised these children — tried to derail our efforts to investigate their employment practices," said Michael Lazzeri, regional administrator for the division in Chicago. 
The company signed a consent decree in December with the Labor Department and agreed to abide by child labor laws after federal investigators documented 50 children working at slaughterhouses for it. The company is taking "significant steps to ensure future compliance with the law including employing an outside compliance specialist," according to the consent decree.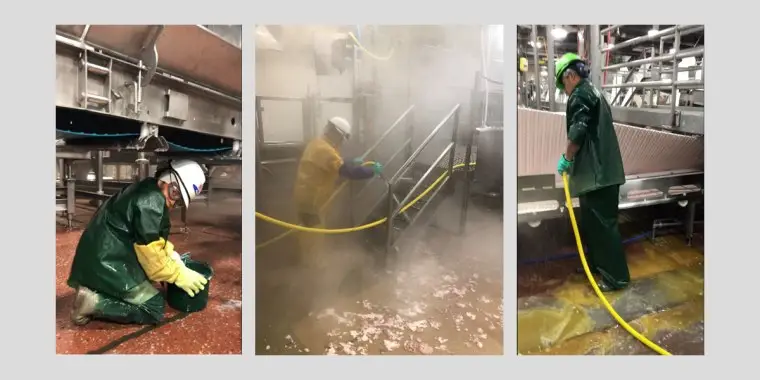 The compliance specialist will conduct child labor audits, which will be shared with the Labor Department for three years.
Advocates and lawyers for the children say some of the child workers for PSSI were unaccompanied minors who recently came across the southern border. Unaccompanied minors are processed by the Border Patrol and then turned over to the Office of Refugee Resettlement within the Department of Health and Human Services. The children are then matched with sponsors who usually have some link to their families.
In a statement, Gregory Chen, senior director of government relations for the American Immigration Lawyers Association, said, "It is vital that the federal government not only investigate the violations committed by this private company, but in addition that it provides protections for the children who may have been victimized by this country. In particular, both the Department of Homeland Security and Department of Labor should apply policies they have recently announced to ensure these children are not deported to country into unsafe circumstances, that they receive legal protection to be able to remain in this country and have a stable, safe environment."
In January, three officials from the Department of Homeland Security told NBC News that federal investigators were looking into whether any of the children were victims of labor trafficking.
Homeland Security Investigations agents have interviewed children who worked cleaning a slaughterhouse in Grand Island, Nebraska, they said.
Source: https://www.nbcnews.com/news/us-news/feds-find-100-children-cleaning-slaughterhouses-pssi-rcna71171
Related Posts