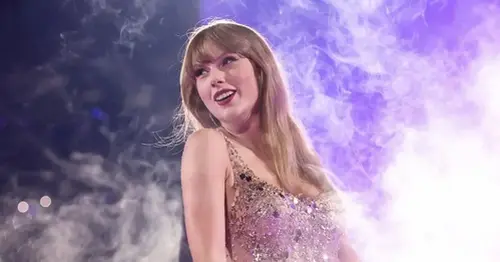 Federal Reserve credits Taylor Swift with boosting hotel revenues through her blockbuster Eras Tour
Taylor Swift's Eras Tour is boosting the U.S. economy.
Ticket sales for Swift's concerts have been so explosive, one Federal Reserve office said, the pop superstar is helping fuel the national tourism industry.
The central bank on Wednesday released its Beige Book, in which Philadelphia Federal Reserve officials reported hotel bookings rose, showing the strongest growth since the beginning of the pandemic, thanks to Swift's show dates.
"Despite the slowing recovery in tourism in the region overall, one contact highlighted that May was the strongest month for hotel revenue in Philadelphia since the onset of the pandemic, in large part due to an influx of guests for the Taylor Swift concerts in the city," the officials wrote.
Eight times a year, the Beige Book compiles summaries of how the economy is doing in different parts of the United States. The document is published before the Federal Reserve committee meeting in which monetary policies, like interest rate decisions, are discussed.
This is not the first time a government agency has credited Swift with boosting local business. Earlier this month, Cincinnati officials credited Swift and the Eras Tour with helping downtown hotels gross more than $2.6 million, and surrounding Hamilton County hotels gross more than $5.3 million.
"Taylor Swift is a force to be reckoned with," Julie Calvert, president and CEO of the tourism group Visit Cincy, said in a statement. "The economic impact Swift creates is staggering, as fans travel from far and wide to attend her concerts, filling hotels, restaurants, and local attractions. Swift's influence on tourism is a testament to her ability to captivate audiences and drive economic growth."
Last month, Chicago's official tourism and marketing organization, Choose Chicago, said the first weekend in June broke hotel occupancy records, thanks to events including Swift's sold-out shows at Soldier Field.
The same economic impact was anecdotally observed in Boston when Eras landed at Gillette Stadium in May.
Data from the concert tracking group Pollstar shows Eras has already grossed more than $300 million, with average ticket prices of more than $250. It projects Swift will reach the $1 billion mark next year, now that her tour has added a number of international dates.
Source: https://www.nbcnews.com/business/consumer/taylor-swift-federal-reserve-credits-eras-tour-boosting-hotels-tourism-rcna94046
Related Posts