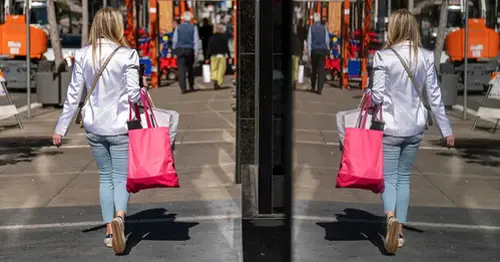 Federal Reserve says it may stop interest rate hikes as banking concerns linger
The Federal Reserve raised interest rates for the 10th consecutive meeting Wednesday but signaled those hikes might be done — thanks in part to jitters in the banking system.
Federal Reserve Chairman Jerome Powell said a pullback in bank lending would slow an economy that the central bank was already trying to cool as part of a broader effort to slow high inflation.
The central bank expects banks to be more conservative in lending to households and businesses after the failures of three of the nation's 30 largest banks (Silicon Valley Bank, Signature Bank and First Republic Bank) in just the last two months. 
"In principle, we won't have to raise rates quite as high as we would have had this not happened," Powell told reporters Wednesday after the board raised interest rates by 0.25%, to a target range of 5.00% to 5.25%.
Powell added that the Fed "may not be far off, or possibility even at," the level where it may not have to raise rates further.
First Republic Bank, which fell into the hands of the government and JPMorgan Chase early Monday, underscored the concerns in the banking industry over more failures. 
Bloomberg reported Wednesday afternoon that Los Angeles-based PacWest Bancorp is weighing "strategic options," including a sale. 
What this means for consumers and businesses
Powell said there is no quantifiable measure of the impact of the banking sector concerns. But Wall Street firms say a substantial pullback in bank lending could be equivalent to another few rate hikes.
Deutsche Bank Research said before Wednesday that a sizable contraction in commercial and industrial bank lending could be the same as a 0.50% or 0.75% increase in the Fed's target rate.
Since March 2022, the Fed has been raising interest rates to tame high inflation. The actions led to substantial spikes in mortgage rates, auto loan rates and small-business loan rates as part of a broader Fed effort to slow lending and, by extension, spending. 
The process has yielded some success; the yearly pace of inflation peaked at 9% in June 2022 but clocked in at 5% in March. But the Fed, with a 2% inflation target, says it needs to keep rates at least elevated to finish the job.
Although they are helpful to the Fed's mission to lower inflation, the tremors in the banking system add the risk of financial instability to an already uncertain economic outlook.
"Credit conditions risks will naturally raise questions about recession," Deutsche Bank wrote April 28.
Powell said the U.S. banking sector looks "sound and resilient." Asked about the odds of a recession, he said he was optimistic.
Source: https://www.nbcnews.com/business/economy/when-will-interest-rate-hikes-stop-federal-reserve-banking-sector-rcna82763
Related Posts