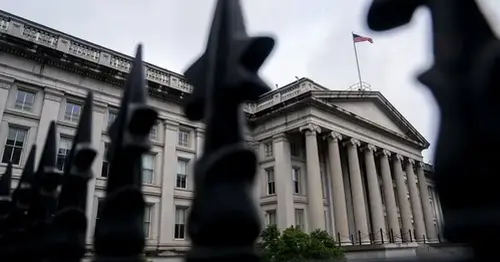 Fitch downgrades U.S. credit rating
Fitch downgraded its credit rating for the U.S. government, from AAA to AA+, two months after the debt-ceiling crisis was resolved.
"In Fitch's view, there has been a steady deterioration in standards of governance over the last 20 years, including on fiscal and debt matters," the rating agency said Tuesday. Fitch said the U.S. appeared to suffer from an "erosion of governance," pointing to the Washington brinkmanship over the debt ceiling as an example.
With a rating of AA+, the U.S. still holds among the highest possible ratings, which Fitch saying the nation still benefits from a "large, advanced, well-diversified and high-income economy.""I strongly disagree with Fitch Ratings' decision," Treasury Secretary Janet Yellen said in a statement Tuesday, calling the change "arbitrary and based on outdated data."
Fitch is one of three major credit rating agencies, along with S&P Moody's, that evaluate a company or country's ability to pay its debts. The agencies use scales to "rate" a debtor's risk of making full and timely payments, helping investors understand the credit history and outlook associated with any bonds they choose to buy.
The move came after Fitch placed the country's AAA rating on negative watch on May 24, citing political brinksmanship over the debt ceiling.
The first and only other time the U.S. has faced a credit downgrade was in 2011, when S&P lowered its rating from AAA, meaning "outstanding," to AA+, or "excellent." That move, which came days after Congress resolved an earlier debt-ceiling standoff, coincided with a stock market drop and a spike in interest rates for consumer-facing products like auto loans and mortgages.
President Joe Biden signed a bipartisan bill on June 3 to lift the federal debt ceiling, a legal limit on how much the debt government is allowed to issue to pay bills it has already racked up through spending legislation. The move avoided a default that economists warned would have had devastating consequences for the U.S. and global economy.
While a broader crisis was sidestepped, the Fitch downgrade underscores concerns among analysts and holders of U.S. Treasury bonds — widely seen as extraordinarily safe investments — that partisan wrangling over the debt ceiling puts the country at heightened risk of eventually missing a payment on its more than $31 trillion in debt at some point in the future.
"The repeated debt-limit political standoffs and last-minute resolutions have eroded confidence in fiscal management," Fitch said.
S&P's U.S. credit downgrade in 2011 came on Aug. 5, three days after then-President Barack Obama signed a bill to avoid a government default. But the agency said at the time that "political brinksmanship" had already compromised the effectiveness and predictability of federal policymaking, creating longer-term doubts about the nation's ability to manage its debt.
The downgrade more than a decade ago, which has never been reversed, caused stock markets to tumble, with the S&P 500 losing 17% between July 22 and Aug. 8. The move also raised government borrowing costs by an estimated $1.3 billion.
Although the debt ceiling is a mechanism to cap government borrowing, it does not cap spending. The federal budget process, separate from the debt ceiling, determines how much money the government spends in which areas.
Source: https://www.nbcnews.com/business/economy/fitch-downgrades-us-credit-rating-rcna84051
Related Posts