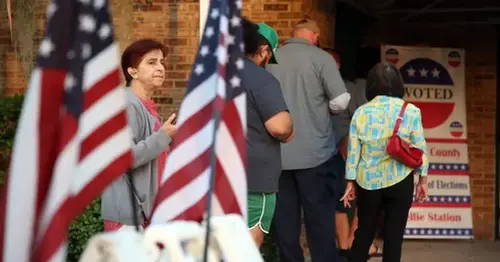 Florida officials hit with federal suit over signature rule for prospective voters
The Florida NAACP, the Florida Alliance for Retired Americans and Vote.org sued a slew of Florida officials on Thursday over a requirement that those without a state driver's license must provide a handwritten signature to register to vote.
In the federal suit — filed against Florida's Secretary of State Cord Byrd, a Republican, and the state's 67 election supervisors — the plaintiffs allege that the "Wet Signature Requirement" violates the Civil Rights Act of 1964.
"Florida law generally treats digital or electronic signatures as equal in all ways to wet signatures, and most Floridians can submit their voter registration application online with a digital signature. Other Florida citizens are denied this opportunity for reasons having nothing to do with their qualifications as Florida voters," the plaintiffs wrote.
They continued: "This restriction serves no purpose other than to impede some Floridians' right to vote."
The wet signature requirement does not bear any relation to the qualifications under state law that determines voter eligibility, nor does it serve any purpose for which an electronic signature would not suffice, they wrote, urging the court to declare the rule in violation of the Civil Rights Act and prevent the state from enforcing it in the future.
Vote.org, a national get-out-the-vote nonprofit, has mounted similar suits in Texas and Georgia.
Voting rights advocates and critics of the wet signature requirement say it restricts the legal rights of people in Florida, while proponents of the rule argue that it protects against instances of election fraud.
Mike Hanmer, director of the Center for Democracy and Civic Engagement at the University of Maryland, said the requirement particularly affects people from historically underrepresented groups, including low-income people, racial and ethnic minorities and younger and older Floridians — some of whom are represented by the Florida Alliance for Retired Americans.
"The stated reason for these requirements is to prevent fraud," Hanmer said. "This is a really small problem. We don't have a lot of instances of fraud."
Florida Gov. Ron DeSantis, a potential 2024 Republican presidential candidate, and the GOP-controlled state Legislature have also limited the use of ballot drop boxes. And despite there being only rare incidents of election fraud in the U.S., DeSantis last year launched a special law enforcement unit to investigate such fraud.
"This is where we see death by a thousand paper cuts," said Andrea Hailey, CEO of Vote.org. "Instead of competing in the marketplace of ideas, there are people who want to create laws the just reshape the electorate so they only have the voters they choose instead of the voters that are eligible."
The Florida NAACP said that the signature requirement diverts time and resources toward helping registrants print, sign and physically return their voter registration forms.
Source: https://www.nbcnews.com/politics/elections/florida-officials-hit-federal-suit-signature-rule-prospective-voters-rcna75424
Related Posts