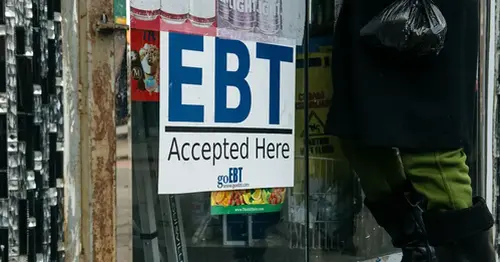 Food insecurity worsened after pandemic SNAP aid expired, report finds
When federal pandemic aid that had boosted food-stamp benefits expired this year, analysts and advocates warned that gains in combating poverty and food insecurity would quickly erode. A recent report offers early evidence that their concerns are being realized.
Consumer spending data released Friday by Morning Consult, the business intelligence firm, shows 47% of households earning less than $50,000 per year reported receiving food benefits in May.
That was up sharply from 39% in February, a month before the end of the emergency allotment saw monthly payments drop by at least $95 for Supplemental Nutrition Assistance Program recipients in 35 states and territories that hadn't already curtailed the extra support before March 1.
While households making more than $50,000 per year spent around 9% more on groceries over the past two months, those earning less than that spent roughly 3% less of their income on food over the same period, the report found.
The divergence suggests that food inflation is affecting consumers of different means unevenly, even as price increases slow down across the economy. The cost of food eaten at home remained 5.8% higher as of last month than the year before, ahead of the overall 4% inflation rate.
"It could be that persistent inflation is getting to people's budgets, and now it's starting to squeeze them more and they need to rely on these other sources of income to subsidize their grocery spending," said Sofia Baig, an economist at Morning Consult who worked on the report.
"If you're used to spending that much money, taking away that much in one month can just be a shock to the budget," she said of the changes in March.
The average monthly SNAP benefit fell in March, the latest federal data available, to $204.54 from $248.93 in February, the last month before the expiration took effect. More than 22 million households were enrolled in the program as of March.
The report comes weeks after the bipartisan debt-limit deal enacted tighter work requirements for many single SNAP recipients in their early 50s in exchange for looser ones for veterans, homeless people and youths aging out of foster care. Policy analysts and anti-hunger advocates who criticized some of those changes at the time said the Morning Consult report shows why ongoing efforts to reduce access to SNAP, at both the state and federal levels, are contributing to food insecurity.
"Circumstances for low-income households can still be pretty harsh, and SNAP can play a vital role," said Ed Bolen, director of SNAP state strategies at the Center on Budget and Policy Priorities, a left-of-center think tank. "When that boost goes away, households are having to make ends meet with less."
Conservative economists and policymakers have said that generous SNAP assistance isn't appropriate given the nation's persistently hot labor market, with some arguing that the program keeps too many people out of the workforce.
An NBC News analysis of Census Bureau and other public data found that the majority of households receiving SNAP benefits are already working and that the program's participation rate tracks changes in poverty levels much more closely than unemployment.
Morning Consult also polled consumers about their cost-saving strategies for grocery purchases. Among other findings, 53% of low-income households said they often or sometimes ate less food to cope with grocery expenses, compared with 52% of middle-income and 44% of upper-income respondents.
The report found that more affluent households were more likely to buy in bulk. Additionally, 79% of middle-income consumers and 74% of lower-income ones have opted for generic or store brands, part of a broader trend of shoppers trading down for cheaper products to skirt price hikes on many premium labels.
Source: https://www.nbcnews.com/business/economy/food-insecurity-worsened-pandemic-snap-aid-expired-report-finds-rcna90506
Related Posts