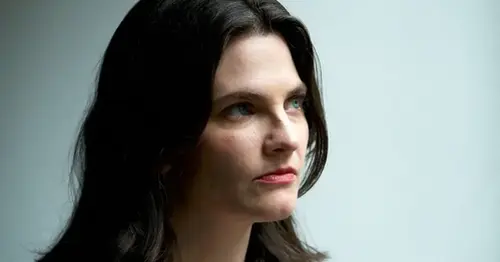 Former DHS disinformation expert sues Fox News alleging defamation
An expert who once oversaw a Department of Homeland Security disinformation board filed a defamation suit Wednesday against Fox News, her lawyer said.
Nina Jankowicz said in the suit, filed in Delaware state court, that she was subjected to violent threats because of Fox News' portrayal of her and her role, which included insults made on the network.
"Fox's coverage of Jankowicz was neither news nor political commentary; it was cheap, easy entertainment untethered from the facts, designed to make consumers believe that Jankowicz could and would suppress their speech," her attorneys wrote in the suit. "Fox chose to lie about Jankowicz deliberately."
Fox News did not immediately respond to a request for comment Wednesday.
Jankowicz, an author and an expert in disinformation, was appointed executive director of DHS board, which was created in late April 2022. It was an internal working group within the agency with no authority, the suit says.
The board's work was paused just weeks later, on May 18, and Jankowicz resigned.
She said at the time that the board's purpose was to ensure that DHS followed best practices in combatting disinformation while protecting Americans' freedom of speech, privacy and civil liberties.
Comments on Fox News portrayed her as censoring Americans' speech, the suit argues. She was called "unhinged" and a "Minister of Truth" in an apparent reference to George Orwell's dystopian world in "Nineteen Eighty-Four," the suit says.
The lawsuit included screenshots of comments on Gab and another website, Patriots.win, in which people reacted to Fox broadcasts with comments like "time to kill them all." Tweets said she should be executed.
Other direct messages told Jankowicz to kill herself using vulgar language, according to the lawsuit.
Her address was also released online, and members of her family were threatened, the suit alleges.
The lawsuit alleges defamation and seeks compensatory damages, as well as punitive damages; the amounts are not spelled out.
The coverage created a "completely false reputation concerning government censorship," the suit alleges.
"In other words, based on verifiable falsehoods, Fox has made Jankowicz radioactive and deterred others from working with her as they otherwise would," lawyers argue in the suit.
Fox agreed last month to pay $787.5 million to settle a defamation case brought by Dominion Voting Systems over lies spread on the network about the 2020 election.
A defamation lawsuit Smartmatic, an electronics equipment company, filed against Fox News is pending. Smartmatic's suit seeks $2.7 billion.
Source: https://www.nbcnews.com/news/us-news/dhs-disinformation-sues-fox-news-defamation-nina-jankowicz-rcna83871
Related Posts