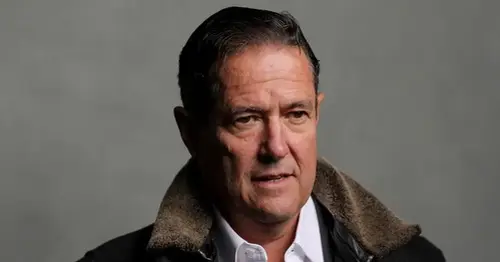 Former JPMorgan exec says bank is using him as a 'PR shield' in Epstein case
A former JPMorgan Chase executive accused of having a "profound friendship" with Jeffrey Epstein has asked a federal judge to dismiss the bank's lawsuit against him over his ties with the Epstein, a convicted sex offender. 
The bank sued Jes Staley in March saying he should be held liable for any financial penalties it faces from lawsuits alleging the bank facilitated Epstein's sex-trafficking enterprise. 
The suits — which were brought by the U.S. Virgin Islands and a woman identified as "Jane Doe 1" — claim the financial institution turned a "blind eye" toward Epstein's conduct, adding that it didn't comply with federal laws for years while providing services to him and benefiting from Epstein's business. 
It is alleged that human trafficking "was the principal business of the accounts Epstein maintained at JP Morgan," according to the U.S. Virgin Islands complaint.
The two suits seek money damages. 
JPMorgan has denied liability. 
In court filings, Staley said the Wall Street giant is using him as a "public relations shield" in its legal battle over working with Epstein and trying to "deflect blame" from its failures. 
Staley, according to court documents, said he didn't have any decision-making authority over Epstein's accounts, adding that the bank has failed to state "viable" claims against him.
"Whether or not JPMorgan is liable to Doe and the USVI remains to be seen. What is certain is that the bank cannot treat Mr. Staley as its public relations shield by asserting claims that lack any legal (or factual) basis," court documents state. 
 Staley called on the court to dismiss the suit because the bank "waited over 10 years to file these claims" and it falls outside the statute of limitations.
"After all, numerous JPMorgan employees knew that Mr. Staley had a relationship with Epstein, and the bank had access to Mr. Staley's communications from his tenure that JPMorgan now alleges reflect that relationship," court documents allege.
 JPMorgan Chase Bank's attorneys did not immediately respond to a request for comment. 
Epstein was convicted in 2008 of procuring a child for prostitution and died by suicide in 2019 at a Manhattan correctional center where he was being held on federal sex-trafficking charges.
Staley has previously expressed regret for his relationship with Epstein.
Staley spent more than 30 years with JPMorgan Chase Bank and later went on to work at Barclays; he stepped down as Barclays' CEO in 2021 after an investigation into his relationship with Epstein.  
In February, unredacted parts of the lawsuit brought by the U.S. Virgin Islands, where Epstein had a home, showed that Staley and Epstein exchanged an estimated 1,200 emails from 2008 to 2012.  
"These communications show a close personal relationship and 'profound' friendship between the two men and even suggest that Staley may have been involved in Epstein's sex-trafficking operation," the U.S. Virgin Islands said in court documents in February.
In one instance, Staley emailed Epstein in July 2010: "Maybe they're tracking u? That was fun. Say hi to Snow White."
Epstein responded by asking what "character would you like next?" which Staley followed up with "Beauty and the Beast." Epstein then replied, "well one side is available."
When JPMorgan Chase Bank sued Staley in March, it said he was the "powerful financial executive" who sexually assaulted Jane Doe 1. The unnamed woman alleged in her suit against the bank that "one of Epstein's friends used aggressive force in his sexual assault of her and informed Jane Doe 1 that he had Epstein's permission to do what he wanted to her" but hadn't named the executive "out of fear."
Source: https://www.nbcnews.com/news/us-news/former-jp-morgan-exec-says-bank-using-pr-shield-epstein-case-rcna81682
Related Posts