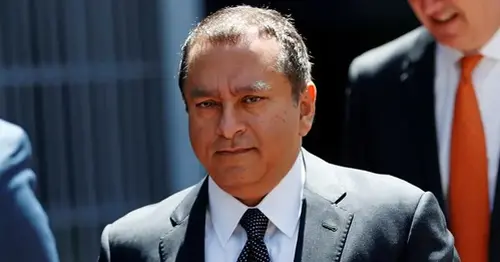 Former Theranos exec Sunny Balwani loses bid to remain out of prison during appeals
A federal judge has rejected former Theranos executive Ramesh "Sunny" Balwani's bid to remain free while he appeals his conviction for crimes he committed during a blood-testing scam he orchestrated with his former boss and lover, Elizabeth Holmes.
The 17-page ruling issued late Thursday pushes Balwani, 57, a step closer to having to begin a nearly 13-year prison sentence he received after a jury convicted him of 12 counts of fraud and conspiracy last year.
Balwani is scheduled to report to prison on March 15 unless he can win a reprieve from a federal appeals court in a motion his lawyers say they plan to file.
Unless the appeals court rules he can remain free, Balwani has been ordered to report to an Atlanta federal prison, according to court documents. The 121-year-old prison has been plagued by misconduct and other abuses described by whistleblowers during a congressional hearing last year.
Elizabeth Holmes sentenced to over 11 years in prison
Nov. 19, 2022
02:05
U.S. District Judge Edward Davila, who sentenced Balwani and denied his request to remain free on appeal, had recommended he serve his time in a Lompoc prison. That facility is located about 250 miles from the San Jose, California, courtroom where his trial unfolded last year.
The judge's denial of Balwani's request to remain free on appeal may not bode well for Holmes, Theranos' CEO and founder. Her lawyers are also pushing Davila to allow her to stay out of prison during an appeal of her conviction on four felony counts of investor fraud and conspiracy. A March 17 hearing has been scheduled for Holmes' lawyers to try to persuade Davila to allow her to remain free until the appeals case is resolved.
Holmes, 39, is scheduled to start a sentence of more than 11 years on April 27. That will separate her from a 1-year-old son she had shortly before her trial began in September 2021 and a recently born child she was carrying at her November sentencing.
Although they had separate trials, Holmes and Balwani were accused of essentially the same crimes centered on a ruse touting Theranos' blood-testing system as a revolutionary breakthrough in health care. The claims helped the company become a Silicon Valley sensation that raised nearly $1 billion from investors.
But its technology never came close to working like Holmes and Balwani boasted, resulting in Theranos' scandalous collapse and a criminal case that shined a bright light on Silicon Valley greed and hubris.
Davila hasn't yet decided on how much money Holmes and Balwani each should have to pay for their crimes. Federal prosecutors are seeking restitution of nearly $900 million.
In a hearing last month on Balwani's bid to remain free, his attorneys alleged federal prosecutors had distorted and misrepresented trial evidence in a manner that makes it likely Balwani will prevail in his appeal of the convictions. The lawyers also pointed to Balwani's non-violent history and past charity work in India as justification for him remaining free, asserting that he poses no danger to the community.
Source: https://www.nbcnews.com/news/us-news/former-theranos-exec-sunny-balwani-loses-bid-remain-prison-appeals-rcna74416
Related Posts