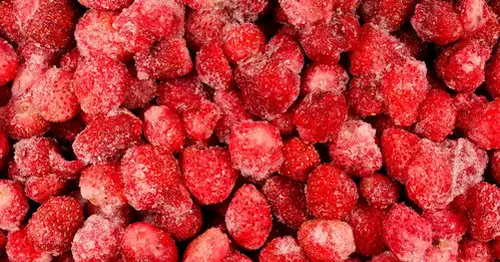 Frozen fruit recalled at Costco, Trader Joe's due to hepatitis A risk
Scenic Fruit Company, whose foods are sold at Trader Joe's and some Costco stores, among others, is recalling various frozen fruit products due to a risk of hepatitis A contamination.
According to a company announcement that the Food and Drug Administration shared on Friday, the affected products include frozen organic strawberries sold under the Kirkland Signature brand at Costco locations in Alaska, Idaho, Montana, Oregon, Utah and Washington, as well as the Trader Joe's frozen "Organic Tropical Fruit Blend" sold nationwide.
The company's frozen strawberries were also on shelves at some Aldi stores, the Seattle-based PCC Community Markets, and distributed through Vital Choice Seafood, a home delivery service. Those items — sold under the brand names Vital Choice, PCC Community Markets, Made With and Simply Nature — are being recalled as well.
All names and best-by dates of the potentially contaminated products are listed on the FDA website.
"Although Hepatitis A has not been detected on this product, out of an abundance of caution, consumers should stop consuming the product and return it to their local store for a refund," Scenic Fruit Company, which is based in Oregon, said in its announcement.
The company did not immediately respond to a request for additional details about the hepatitis A outbreak, but it said on Thursday that it has paused production and distribution of the products in question while it investigates the issue alongside the FDA.
In an online statement on Friday, Trader Joe's said "no illnesses have been reported to date, and all potentially affected product has been removed from sale and destroyed."
Hepatitis A infections can lead to liver disease, with symptoms usually appearing two to seven weeks after an infection, according to the Centers for Disease Control and Prevention. People with mild illness may experience fever, fatigue, abdominal or joint pain, diarrhea, jaundice or dark urine.
The symptoms typically last less than two months, but some people may be sick for as long as six months, according to the CDC.
Hepatitis A is a highly contagious virus and can be spread by consuming food or drink handled by a person with an infection. Food can get contaminated with hepatitis A at any point during growing, harvesting, processing or handling, according to the CDC.
People with HIV or chronic liver disease, including hepatitis B and hepatitis C, are at higher risk of liver damage or liver failure if they contract hepatitis A.
One shot of a hepatitis A vaccine can help prevent illness if administered within two weeks of exposure to contaminated food. There is no designated treatment for the disease, though symptoms can be alleviated with rest, proper nutrition and fluids.
Source: https://www.nbcnews.com/health/health-news/frozen-fruit-recalled-costco-trader-joes-hepatitis-rcna75520
Related Posts