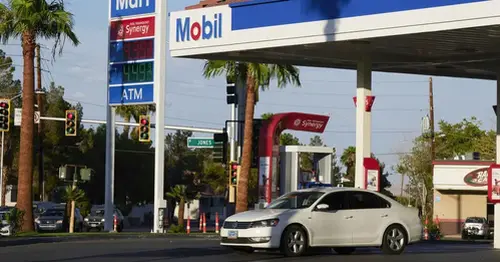 Gas prices are going up, highest cost per gallon since November
U.S. gas prices hit an eight-month high Thursday amid rising oil prices.
The national average price for a gallon of regular unleaded climbed to $3.71 Thursday, data from AAA showed. That's more than 13 cents higher than the week before and the highest since November.
In 16 states, gas prices are up by at least 15 cents in the past week alone — and up 20 cents or more in Florida, Iowa and Indiana.
The move higher follows a surge in oil prices, which have climbed more than $10 a barrel over the past month to a three-month high of more than $80.
That increase, in turn, has come in response to production cuts by OPEC nations and the impact of outages at U.S. refineries, both of which are related to intense summer heat.
"Oil supplies are constrained," said Andy Gross, the national spokesperson for AAA.
Gas prices remain well below last year's $4.30-per-gallon level at the end of July. But if oil prices stay high in the coming weeks, they could affect the next month's inflation report. Year-on-year energy price declines were one of the biggest contributors to the U.S. consumer price index's falling to just 3% in June.
Higher gasoline prices are likely to strain consumers when the U.S. government is pushing for increased adoption of clean energy solutions, like electric vehicles.
As part of the effort, the Biden administration's Inflation Reduction Act offers incentives to shoppers looking to switch from gas-powered vehicles — which pollute the environment by emitting greenhouse gases like carbon dioxide, which warm the Earth's atmosphere — to battery-powered vehicles, which are far less carbon-intensive.
Gross also said prices could also be affected as the U.S. enters peak hurricane season. According to the National Hurricane Center, the most storm activity happens from mid-August through mid-October. Depending on storm trajectories, domestic production could be cut as offshore and Gulf Coast oil sites shut down.
Source: https://www.nbcnews.com/business/consumer/gas-prices-are-going-highest-cost-gallon-november-rcna96703
Related Posts