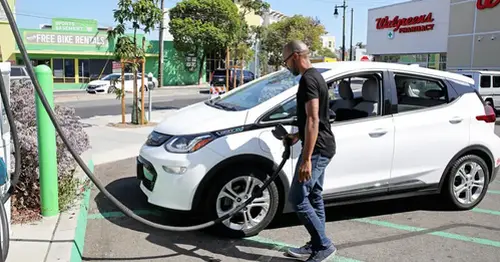 GM to end production of electric Chevy Bolt, its first mass-market EV, this year
DETROIT — General Motors plans to end production of its electric Chevrolet Bolt models by the end of this year, CEO Mary Barra told investors Tuesday when discussing the company's first-quarter earnings.
The Chevy Bolt EV and EUV, a larger version of the car, make up the vast majority of the company's electric vehicle sales to date. However, the battery cells in the cars are an older design and chemistry than the automaker's newer vehicles such as the GMC Hummer and Cadillac Lyriq, which utilize GM's Ultium architecture.
Barra said a suburban Detroit plant that has produced Bolt models since 2016 will be retooled in preparation for production of electric trucks scheduled for next year.
There's irony in the timing of the Bolt getting axed. It comes amid record production and sales of the vehicle for mass-market consumers, which was GM's initial goal.
The company plans to produce more than 70,000 of the vehicles this year, as it targets to sell more than 400,000 EVs from early 2022 through mid-next year in North America.
GM pushed the Bolt out ahead of the Tesla Model 3 in 2016. The two were considered to be the first long-range EVs designed for mainstream drivers, starting at around $35,000.
But Bolt sales never caught on as well as many executives hoped, as EV sales overall remained miniscule outside of Tesla. The Bolt also suffered a major setback more recently, as GM recalled all of the Bolts ever produced due to a supplier-related battery issue.
"When the Chevrolet Bolt EV launched, it was a huge technical achievement and the first affordable EV, which set in motion GM's all-electric future," Chevy spokesman Cody Williams said in a statement. "Chevrolet will launch several new EVs later this year based on the Ultium platform in key segments, including the Silverado EV, Blazer EV and Equinox EV. "
GM expects to launch its upcoming EVs far faster than it has its high-end Hummer models and Cadillac Lyriq, which have been rolling out at a snail's pace compared to its traditional vehicles.
Barra said when the Orion, Michigan, plant, which currently produces the Bolts, reopens and reaches full production, employment will nearly triple, and the company will have capacity to build 600,000 electric trucks annually.
Source: https://www.nbcnews.com/business/business-news/chevy-bolt-discontinued-gm-will-end-production-later-this-year-2023-rcna81319
Related Posts