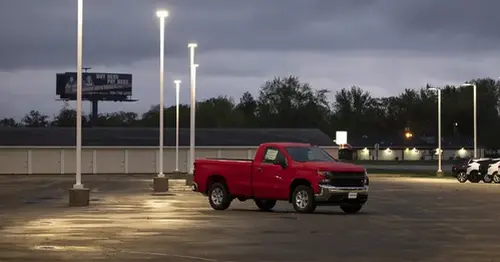 GM to invest more than $1 billion to produce new heavy-duty pickups
DETROIT — General Motors plans to invest more than $1 billion in two Michigan plants for the production of next-generation heavy-duty trucks, the company said Monday.
The investment includes $788 million to prepare its Flint Assembly plant to build the heavy-duty gas and diesel trucks. Another $233 million will be invested in the automaker's Flint Metal Center to support production of the vehicles. Both plants are located in mid-Michigan.
Despite GM's commitment to exclusively offer all-electric vehicles by 2035, the company continues to invest in traditional vehicles such as the Chevrolet Silverado and GMC Sierra heavy-duty pickups.
The notably profitable trucks are in high demand, and sales are needed to assist in funding the automaker's investments in EVs.
General Motors to invest $7 billion in manufacturing electric vehicles
Feb. 7, 2022
04:57
A GM spokesman said construction related to the investments is scheduled to begin during the fourth quarter. He declined to disclose details and timing of the next-generation pickups.
In 2022, GM reported sales of its heavy-duty pickups increased 38% compared to the prior year, amounting to nearly 288,000 trucks sold.
The investment announcement comes ahead of contract negotiations between the Detroit automakers, including GM, and the United Auto Workers union this summer.
For investors, UAW negotiations are typically a short-term headwind every four years that result in higher costs. But this year's negotiations are expected to be among the most contentious and important in recent memory, fueled by a years-long organized labor movement across the country, a pro-union president and an industry in transition to all-electric vehicles.
More from CNBC
Jamie Dimon, America's top banker, has 'no plans' to run for office
Spotify lays off 200 employees, or about 2% of its workforce
How new lithium extraction technology could help us meet electric vehicle targets
"When business is booming as it has been for the past decade — due to the hard work of UAW members — the company should continue to invest in its workforce," UAW Vice President Mike Booth, who oversees the union's GM unit, said in a release.
Source: https://www.nbcnews.com/business/autos/gm-invest-1-billion-produce-new-heavy-duty-pickups-rcna87777
Related Posts