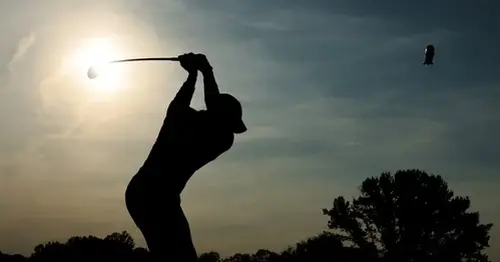 Golf's PGA Tour and LIV merger is the latest power play by Saudi Arabia
A blockbuster sports deal set to merge two rivals — the PGA Tour, an organizer of top-level professional golf tournaments mostly in the U.S., with LIV Golf, an upstart league funded by Saudi Arabia — stunned players and fans alike this week.
But the tentative plan to combine forces and position Saudi Arabia's sovereign wealth fund to invest billions of dollars in the joint venture goes beyond a lucrative power play by the oil-rich kingdom.
Observers say it's the Saudis' latest attempt to flex their influence across a breadth of American institutions, from Hollywood to Silicon Valley, and mine economic opportunities in spite of tense relations with the West in recent years brought on by accusations of human rights abuses and the 2018 killing of journalist and U.S. resident Jamal Khashoggi.
"This is a huge feather in the cap of the Saudis, and it's a huge victory for them on a number of levels," said Bernard Haykel, a professor of Near Eastern studies at Princeton University who has written about political and social changes in the country.
While the PGA Tour and LIV Golf clashed publicly, including litigation in which LIV accused the PGA Tour of acting as a monopolistic enterprise and the defections of top PGA Tour players to LIV, the surprise union gives the Saudis a foothold in one of the world's enduring pastimes.
"The bulk of their investments is in America. It's the most liquid market and with the greatest returns," Haykel said. "This is a no-brainer."
'Sportswashing' strategy?
Making inroads in the U.S. golf market, a multibillion-dollar industry, is merely the latest frontier for Saudi Crown Prince Mohammed bin Salman as his government sets its sights on the global sports arena.
The country's efforts have been gaining momentum.
In 2021, Saudi Arabia's sovereign wealth fund bought Newcastle United, transforming the beleaguered soccer club in England's Premier League into one of the world's richest. Newcastle this season ranks in the league's top five teams in the standings.
Also in 2021, Saudi Arabia introduced its own Grand Prix Formula One motor races, which are held around the globe and are known for attracting celebrities, influencers and foreign dealmakers. This year's glitzy gathering in the Saudi resort city of Jeddah included after-race concerts headlined by Travis Scott, Charlie Puth and Calvin Harris.
The kingdom's foray into mega-sporting events has led critics to claim the Saudis are engaged in "sportswashing" — an attempt to burnish its reputation through the popularity of sports and high-profile athletes — while neglecting to address human rights reforms or provide transparency in connection with Khashoggi's death, as well as the 9/11 attacks, led by Saudi hijackers.
After the PGA Tour-LIV merger was announced Tuesday, an organization representing the families of victims of 9/11 blasted PGA Tour Commissioner Jay Monahan for appearing to turn his back on them after he previously made comments taking aim at LIV.
"PGA Tour leaders should be ashamed of their hypocrisy and greed," Terry Strada, the chair of 9/11 Families United, said in a statement. "Our entire 9/11 community has been betrayed by Commissioner Monahan and the PGA as it appears their concern for our loved ones was merely window-dressing in their quest for money — it was never to honor the great game of golf."
Monahan has defended the deal, and he said his past comments were based on information he had at the time. "I recognize that people are going to call me a hypocrite," he told reporters Tuesday. "I accept those criticisms. But circumstances do change."
Some Washington lawmakers who have criticized Saudi Arabia in the past also lauded the new partnership.
"As a premier U.S. destination for golf, the merger of PGA and LIV Tour is beyond exciting and could be beneficial to our state," tweeted Sen. Lindsey Graham, R-S.C., who had once harshly condemned the Saudi crown prince over his alleged role in Khashoggi's killing.
Hollywood and tech
The deep-pocketed Saudis have become players in other profitable industries — at times to limited success.
A 2018 Vanity Fair article, "Prince Mohammed Does Hollywood," described how the crown prince hobnobbed with movie moguls and A-list actors during a whirlwind tour across the U.S.
"A pleasure to have a private dinner with the Crown Prince of Saudi Arabia, Mohammed bin Salman, his royal family and distinguished cadre," Dwayne "The Rock" Johnson wrote on Facebook after a dinner at the home of media baron Rupert Murdoch. "A fun night and great to hear his deep-rooted, yet modern views on the world and certainly the positive growth of his country."
But what would have been a major Hollywood deal in 2019 soured following the Khashoggi scandal when Endeavor, a sports and entertainment company headed by Ari Emanuel, the brother of former Chicago Mayor Rahm Emanuel, returned a $400 million investment from the kingdom's sovereign wealth fund. In a television conference, Ari Emanuel said Khashoggi's death was "very, very concerning," The Washington Post reported.
PGA and Saudi-backed LIV Golf announce merger
June 6, 2023
02:02
Only recently have the Saudis been able to lure serious Hollywood interest, according to The Hollywood Reporter. The Gerard Butler-helmed CIA thriller "Kandahar," which opened last month to mixed reviews, was filmed on location in the kingdom.
Meanwhile, the Saudi monarchy's attempt to find success in the U.S. tech industry has also traveled a bumpy road.
In 2016, the Saudis' sovereign wealth fund boosted Uber with a $3.5 billion investment. Since then, the ride-hailing app has become one of the most popular in the country.
But the fund also missed out on a financial windfall after it dumped nearly all of its shares of Tesla in late 2019 just before the electric carmaker had a massive rally — which would have benefited Saudi Arabia to the tune of more than $7 billion, according to reports.
Resetting relations
The Biden administration is looking to ease relations with Saudi Arabia, which President Joe Biden had described on the campaign trail in 2019 as a "pariah" state.
This week, Secretary of State Antony Blinken met with Crown Prince Mohammed in his first bilateral visit to Saudi Arabia as the top U.S. diplomat.
The pair "affirmed their shared commitment to advance stability, security, and prosperity across the Middle East and beyond, including through a comprehensive political agreement to achieve peace, prosperity, and security in Yemen," according to a readout of the meeting shared by the State Department.
Haykel said the Saudis' investment with the PGA Tour shouldn't be read as their trying to rebrand their image with the broader American public.
"They would like us to like them, but they've given up on trying," Haykel said. "They're pursuing their national interests. They're making deals with the Chinese and the Russians, too."
Robert Jordan, who was the ambassador to Saudi Arabia in President George W. Bush's administration, said the strained relationship between the U.S. and Saudi Arabia in recent years doesn't mean neither side is willing to give up an economic and military partnership.
The allure of America is real, he said.
Source: https://www.nbcnews.com/business/business-news/golfs-pga-tour-liv-merger-latest-power-play-saudi-arabia-rcna88325
Related Posts