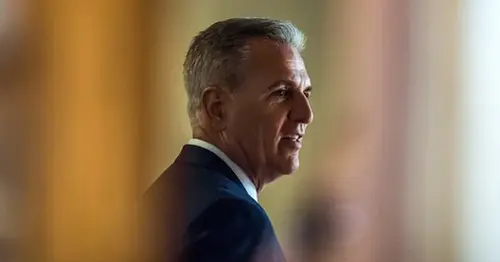 GOP-led House passes bill to hike debt limit and slash spending
WASHINGTON — The Republican-controlled House voted Wednesday to pass a bill to raise the debt limit, slash spending and roll back key pieces of President Joe Biden's agenda after a series of concessions overnight to win over stubborn GOP holdouts.
The GOP debt package is dead on arrival in the Democratic-led Senate, and Biden has also issued a veto threat, saying Congress should hike the debt ceiling with no strings attached.
But passage of the bill on a 217-215 vote hands Speaker Kevin McCarthy, R-Calif., a small and much-needed symbolic victory, underscoring his ability to bring together his razor-thin, often rambunctious majority. Republicans hope that uniting behind the debt ceiling plan will pressure Biden and the Democrats to start negotiating just two months before a potential default on the nation's debt.
"One party has taken care of the debt ceiling. We have lifted the debt ceiling. … The Democrats have not," McCarthy told reporters after the vote. "The president wants to make sure the debt ceiling is going to be lifted — sign this bill."
Rules Committee Chairman Tom Cole, R-Okla., a senior appropriator and McCarthy ally, acknowledged the work ahead on the debt ceiling but praised McCarthy. "It's not the end of the road, but it's a great personal and political victory for the speaker who got it done. He got a lot of people to vote for a debt ceiling increase who've never done that before," he said.
"And it also puts pressure on the Senate to come to the negotiating table. They can't pass a clean debt ceiling," Cole added, referring to Democrats' demand that legislation to raise the debt limit be free of any other policy riders. "They know that — and it brings the president to it."
McCarthy faced early skepticism from members in swing districts, as well as holdouts representing the Midwest who were worried about a reduction in ethanol funding and conservatives who wanted changes like tougher work requirements for safety-net programs.
But over 24 hours starting Tuesday, McCarthy and his leadership team worked frantically to address their concerns, rewrite some provisions and flip a handful of "no" votes that threatened to tank the bill.
The tweaks won over a small bloc of Corn Belt Republicans from Iowa and other states who worried the GOP package could repeal ethanol tax credits, including those in the Democrats' Inflation Reduction Act, that benefited their constituents.
"In the spirit of Caitlin Clark, we're going to fight, fight, fight for Iowa, and we came out ahead on this. ... The delegation from Iowa held strong together," said freshman Rep. Zach Nunn, one of the Iowa Republicans who met with McCarthy on Tuesday. 
"This is a massive sea change from where we were just 24 hours ago."
Separately, McCarthy and leaders agreed to a demand from one of McCarthy's chief critics, Rep. Matt Gaetz, R-Fla., who wanted work requirements for Medicaid and other safety-net programs to begin sooner.
Despite winning concessions, Gaetz voiced frustration that changes were made in the dead of night and just hours before lawmakers were set to vote. Republicans often fumed at then-Speaker Nancy Pelosi and the Democrats for bypassing regular order and making changes to big legislation in the middle of the night.
"I never get mad," Gaetz said, "but it has a practical consequence when at 2 in the morning changes are made and we're asked to vote in the subsequent several hours."
Gaetz was one of four hard-right Republicans who voted against the bill, along with Reps. Andy Biggs of Arizona, Ken Buck of Colorado and Tim Burchett of Tennessee. All Democrats voted no.
Burchett said the McCarthy package would do "nothing" to actually address the deficit.
"It cut the rate of growth. It would actually add to the deficit over 10 years," Burchett said. "So cutting the rate of growth, it's not cutting the deficit to me — and I know the accountants and the fiscal spin doctors will tell you different."
McCarthy had little wiggle room: He could afford only those four GOP defections given his thin majority. And he was working up until the final minutes of the vote.
"This shows that House Republicans can govern," said Rep. Darin LaHood, R-Ill., a McCarthy ally. "It shows that Kevin McCarthy is the leader of House Republicans and has exercised that leadership."
After having initially threatened to vote no, swing-district Rep. Nancy Mace, R-S.C., came out in support of the bill Wednesday afternoon. McCarthy agreed that Mace will lead a draft of a balanced budget amendment for Republicans and will get floor votes on her bills relating to active shooter alerts and women's access to reproductive health and child care services, a source said.
"I feel heard by the speaker," Mace said. "I will support the debt ceiling vote today."
McCarthy's bill, dubbed the Limit, Save, Grow Act, would lift the federal borrowing limit by $1.5 trillion or through March 31, whichever comes first. It would cut federal discretionary spending to fiscal 2022 levels and impose a 1% growth cap, and it would recapture unspent Covid relief funds, kill Biden's student debt cancellation plan, rescind IRS enforcement funding and add new work requirements for able-bodied adult recipients of federal programs like Medicaid.
In a closed-door meeting of House Republicans on Wednesday morning, lawmakers said McCarthy rallied his troops before the vote. "Let's get this done!" he told them.
Rep. Joe Wilson, R-S.C., said McCarthy also recited a quote attributed to the late legendary Speaker Sam Rayburn in a bid to limit defections:
"Any jackass can kick a barn down, but it takes a carpenter to build one."
But the GOP package is only the opening bid in a negotiation that has yet to get off the ground. Senate Democrats have said the McCarthy bill is going nowhere, and the White House has said Biden would veto it.
Pressed by reporters whether he would now meet with the speaker about the debt, Biden said he's "happy to meet with McCarthy" to discuss issues but not about whether the debt limit is increased. 
"That's not negotiable," Biden said.
White House communications director Ben LaBolt blasted the bill, accusing McCarthy of having "cut a deal with the most extreme MAGA elements of his party" in a way that would harm food assistance and "strip away health care services for veterans, cut access to Meals on Wheels, eliminate health care coverage for millions of Americans and ship manufacturing jobs overseas."
Sen. Chris Coons, D-Del., argued that passage of the House bill would have no impact in the Senate, where, he said, it is "clearly dead on arrival." Coons said the legislation could become a basis for negotiations in a separate government funding bill later in the year, but he insisted Democrats won't haggle over whether to pay the bills Congress has already racked up.
Source: https://www.nbcnews.com/politics/congress/house-republicans-eye-wednesday-vote-debt-limit-bill-making-changes-rcna81326
Related Posts