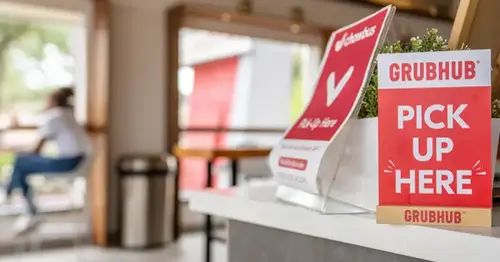 Grubhub lays off 15% of corporate workforce, or about 400 employees
Food delivery platform Grubhub laid off about 400 employees, or 15% of its corporate workforce, citing a need to maintain "competitiveness," the company's CEO said in a message to employees Monday.
The company has struggled to capture market share, lagging significantly compared with competitors such as Uber Eats and DoorDash, according to research from Bloomberg Second Measure.
Grubhub said it would offer employees a minimum of 16 weeks severance but declined to comment on specific groups or positions that were affected.
"There is no doubt whatsoever that we have a solid foundation in place and an immense opportunity ahead of us — but it is also clear that we need to make some tough decisions in order to maintain our competitiveness, deliver the best possible service for diners and our other partners, and be successful for the long-term," CEO Howard Migdal said in his memo.
The one-time public company was acquired by the Dutch multinational Just Eat Takeaway.com in 2021. The all-stock transaction valued Grubhub at $7.3 billion.
Source: https://www.nbcnews.com/business/business-news/grubhub-lays-off-400-corporate-employees-rcna88901
Related Posts