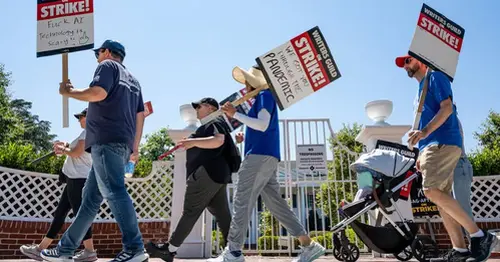 Hollywood producers seek sit-down with striking writers, the first sign of stalemate break
As the Hollywood writers strike nears its 100th day and pressure from striking actors mounts, producers are asking for a meeting.
The Writers Guild of America told screenwriters that Carol Lombardini, the studio negotiator, requested to talk Friday about the possibility of resuming negotiations with the guild.
"As we've said before, be wary of rumors," the guild warned members Tuesday. "Whenever there is important news to share, you will hear it directly from us."
Fran Drescher on future of SAG strikes: 'I don't have a crystal ball'
Aug. 1, 2023
05:37
The Friday meeting doesn't guarantee that producers and writers will resume talks, but it's the first sign of movement in a stalemate between the Alliance of Motion Picture and Television Producers and the WGA, which began in early May.
The request from producers comes as pressure on the AMPTP to resolve labor disputes has mounted in recent weeks.
Tens of thousands of actors joined the picket lines last month, bringing Hollywood productions to a standstill and marking the first simultaneous actors and writers strike since 1960.
The Screen Actors Guild — American Federation of Television and Radio Artists, led by president Fran Drescher, have towed a hard line with the AMPTP, publicly criticizing studio executives and holding firm to their demands.
Hollywood performers are looking to improve wages, working conditions, and health and pension benefits, as well as create guardrails for the use of artificial intelligence in future television and film productions. Additionally, the union is seeking more transparency from streaming services about viewership so that residual payments can be made equitable to linear TV.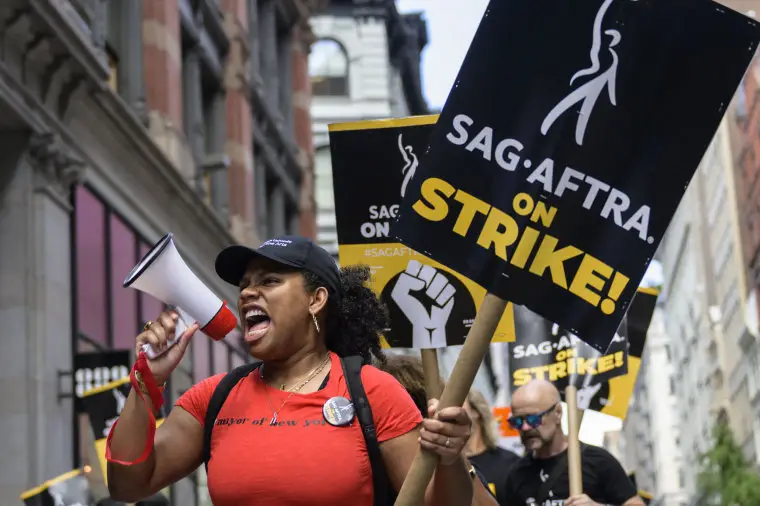 "As we've stated publicly and privately every day since July 12, we are ready willing and able to return to the table at any time," said Duncan Crabtree-Ireland, SAG-AFTRA national executive director and chief negotiator. "We have not heard from the AMPTP since July 12 when they told us they would not be willing to continue talks for quite some. The only way a strike comes to an end is through the parties talking and we urge them to return to the table so that we can get the industry back to work as soon as possible."
The AMPTP said in a statement it remains "committed to finding a path to mutually beneficial deals with both unions."
Pressure building
Fiery rhetoric from the acting guild, including the public damnation of Disney CEO Bob Iger, may have helped push producers to seek resumption of talks with the writers.
That's on top of mounting tension with industry scribes. Reports surfaced last month about tactics studio producers allegedly planned to implement against writers, including waiting months for workers to run out of money and possibly lose their homes, thus forcing them to come to the bargaining table.
While the AMPTP has denied these reports, studio executives have remained outspoken about what they consider unreasonable contract requests.
How the SAG-AFTRA strike is affecting the U.S. economy
July 26, 2023
02:15
The WGA is seeking higher compensation and residuals, particularly when it comes to streaming shows, as well as new rules that will require studios to staff television shows with a certain number of writers for a specific period.
The guild also is seeking compensation throughout the process of pre-production, production and post-production. Currently, writers are often expected to provide revisions or craft new material, often without being paid.
The WGA also shares similar concerns over the use of artificial intelligence when it comes to script writing.
Exacerbating matters for Hollywood's producers is the shutdown of film and television productions, which has led to release date chaos. Movies set for next year are already shifting and the upcoming fall television season is expected to be interrupted.
Even films that have been completed could move on the calendar, as actors are not permitted to promote projects, hindering marketing efforts.
Media companies have been contending with ramped up cord-cutting of the traditional pay TV bundle — which remains a cash cow, even as it's dwindling — and working to make streaming businesses profitable.
While media companies have said their slates for streaming and traditional TV are in good shape for the fall — particularly Netflix, which has a deep vault of content to be released, as well as international programming — the strikes could cause further chaos to an industry that is in a tumultuous period.
More from CNBC
Dimon calls Fitch U.S. downgrade 'ridiculous,' says it 'doesn't really matter'
Disney CEO Bob Iger wants minority partners for ESPN, but landing a deal won't be easy
Foreign buyers are bailing on the U.S. housing market. Here's why
Iger said on CNBC recently that the stoppage couldn't occur at a worse time, noting "disruptive forces on this business and all the challenges that we're facing," on top of the industry still recovering from the pandemic.
Other issues for the industry include the soft advertising market due to macro economic concerns and uncertainly. While advertisers have been putting more dollars toward streaming, traditional TV has taken a hit. The work stoppage hasn't played a big role in conversations with advertisers, yet, although if it carries into the new year it could cause hiccups, according to advertising industry executives.
Source: https://www.nbcnews.com/pop-culture/pop-culture-news/hollywood-producers-seek-sit-striking-writers-first-sign-stalemate-bre-rcna97813
Related Posts