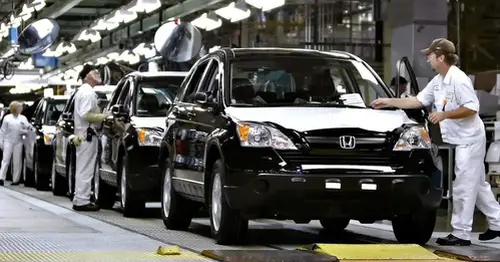 Honda recalls 564,000 CR-Vs sold in 22 cold-weather states and D.C., over potential rust issue
Honda is recalling 563,711 older-model CR-Vs in 22 cold-weather states and Washington, D.C., because an accumulation of road salt can cause the vehicle's rear trailing arm to corrode and detach, which could lead to a crash.
According to the recall notice posted on the National Highway Traffic Safety Administration's website, Honda said it has received 61 complaints of road salt accumulating and causing frame corrosion.
If the vehicle's trailing arm, which is a component of the suspension, detaches as a result of that corrosion, it can cause the driver to lose control of the vehicle, increasing the risk of a crash.
The states where the affected model year 2007-2011 CR-V vehicles were sold or registered are: Connecticut, Delaware, Illinois, Indiana, Iowa, Kentucky, Maine, Maryland, Massachusetts, Michigan, Minnesota, Missouri, New Hampshire, New Jersey, New York, Ohio, Pennsylvania, Rhode Island, Vermont, Virginia, West Virginia and Wisconsin. Honda estimated 1% of the recalled vehicles may have the defect.
As a remedy, Honda said its dealers will inspect and install a support brace or repair the rear frame, as necessary, for free. In some cases, Honda may offer to repurchase the vehicle outright, the company said.
Source: https://www.nbcnews.com/business/business-news/honda-crv-recall-564000-models-affected-which-year-rcna78579
Related Posts