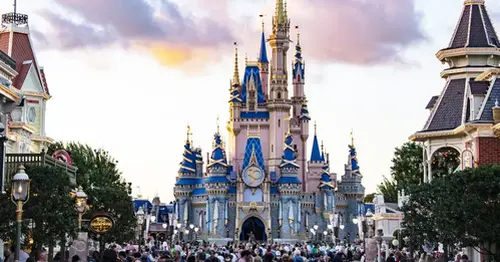 Hours after state board rebuke, Disney announces groundbreaking for affordable housing in Florida
Walt Disney World said on Wednesday it would break ground next year on a planned affordable housing development in Central Florida.
The unit of Walt Disney Co. said it plans to provide 1,400 housing units on 80 acres of land "a few miles away" from the Magic Kingdom and near schools and shopping. The first units are expected to be completed in 2026.
The announcement comes the same day as members of the state-appointed oversight board discussed the need for affordable housing for Disney's 75,000 employees.
DeSantis-appointed Disney board votes to give itself superior authority over Disney
April 19, 2023
01:03
Tensions between Florida Governor Ron DeSantis and Disney began last year, when the company publicly opposed the state's legislation barring instruction of sexual orientation and gender identity in the classroom.
The Florida legislature passed a bill, which DeSantis signed, giving the governor the authority to appoint supervisors to a board that oversees municipal services and development in a special district that encompasses Walt Disney World resort.
Disney responded by pushing through a developer's agreement and restrictive covenants that would limit the new board's actions for decades. The Governor responded by calling on the state lawmakers to pass a bill that would nullify the company's efforts.
Source: https://www.nbcnews.com/business/corporations/disney-announces-affordable-housing-development-rcna80634
Related Posts