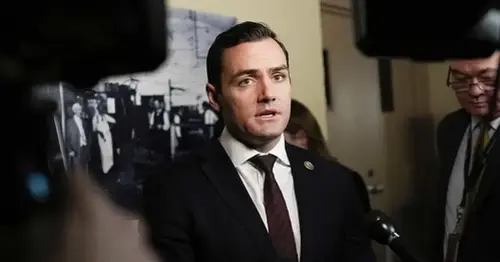 House committee takes aim at U.S. venture capital firms for investments in Chinese A.I.
The House Select Committee on the Chinese Communist Party sent letters to four separate U.S. venture capital firms, including Qualcomm's venture arm, expressing "serious concern" about their investments in Chinese tech startups.
The letters, which were made public on Wednesday, were sent to GGV Capital, GST Ventures, Qualcomm Ventures, and Walden International. They were written by Wisconsin Republican Mike Gallagher and Illinois Democrat Raja Krishnamoorthi, the top two members on the committee.
More from CNBC
Tesla shares dip after hours as earnings call disappoints
A new foldable smartphone is becoming as popular as an Apple iPhone model in China
India's smartphone shipments stabilize after three quarters of decline, report shows
Of particular concern to the lawmakers are investments in artificial intelligence, chipmakers and quantum computing companies in China. They also noted that some of the companies to receive U.S. money have been linked to the profiling and tracking of Uyghur ethnic minorities in China.
"Like AI, the domestic development of semiconductors is a top priority of the Chinese Communist Party," the letter says. "Semiconductors are essential for artificial intelligence, quantum computing, and other advanced dual use technology."
Representatives from the four venture firms that received the letters did not immediately respond to requests for comment.
The outreach represents the latest bipartisan effort by politicians to step up pressure on U.S. investments in China as tension swells between the world's two largest economies and national security concerns escalate. U.S. Treasury Secretary Janet Yellen traveled to China earlier this month as part of a plan to stabilize relations with China. Secretary of State Antony Blinken visited in June.
In their letter, Gallagher and Krishnamoorthi linked dozens of particular investments to human rights violations and efforts to enhance China's military, which runs counter to American interests.
Qualcomm Ventures, for example, made 13 investments in Chinese A.I. companies from 2015 to 2021, according to the letter. One investment was in SenseTime, which a New York Times report linked to Chinese tracking and profiling of the Uyghurs.
Qualcomm's investment in Denglin Technology, an apparent competitor, also faces Congressional scrutiny. Qualcomm was one of Denglin's earliest backers, according to PitchBook, and invested in an additional 2022 funding round.
The firm with the most potentially problematic investments, according to the letter, is GGV Capital, which has offices in Silicon Valley, San Francisco, Shanghai, Beijing and Singapore. The letter identified 43 different investments in Chinese AI companies from 2015 to 2021, more than any other identified by independent researchers at Georgetown's Center for Security and Emerging Technology.
GGV has $9.2 billion in assets under management, and established operations on the ground in China in 2005. Even before that, it invested in Chinese e-commerce giant Alibaba, and subsequently backed TikTok parent ByteDance and ride-hailing company Didi.
Gallagher and Krishnamoorthi identify GGV's investment in Megvii, a Beijing-based facial recognition software provider, as a point of concern. The company "actively supports the surveillance of Uyghurs," the letter says.
Megvii is backed by a number of major investors, including Alibaba, Foxconn and the Macquarie Group. GGV invested in Megvii in 2019 alongside Abu Dhabi's sovereign wealth fund in a deal that valued the company at about $4 billion.
Walden, a smaller firm, was identified as a particularly significant backer of Chinese AI companies. The letter said that from 2015 to 2021, at least 39% of the firm's AI deals were in that sector, including one investment in a now blacklisted company called Intellifusion.
Intellifusion has since gone public and has a market cap of 22 billion Chinese yuan, or roughly $3 billion.
Regarding GSR Ventures, the letter said the firm "was among the top U.S.-located investors in PRC artificial intelligence companies between 2015 and 2021, according to a recent report by the Center for Security and Emerging Technology." The lawmakers cited 33 distinct investments in the six-year period, including Horizon Robotics, which was last privately valued at $5 billion in 2021.
The letters advance Gallagher's push for controls on U.S. money in key technologies in China.
After meeting with Silicon Valley executives in April, Gallagher told CNBC in an interview that he "emerged from that day cautiously optimistic that we could put in place some sensible controls on American capital flowing to China that would allow us to not fund our own destruction or fund our own loss in the great AI race." 
He said at the time he found there was "broad support" among venture capitalists and others to keep U.S. asset managers from investing in Chinese AI firms.
The U.S. Commerce Department has also considered steps to ensure U.S. technologies can't be overly leveraged by China to advance its own AI efforts. The Wall Street Journal reported last month that the agency was weighing further limits on advanced chips used for AI that could be exported to China.
Source: https://www.nbcnews.com/news/world/house-committee-takes-aim-us-venture-capital-firms-investments-chinese-rcna95248
Related Posts