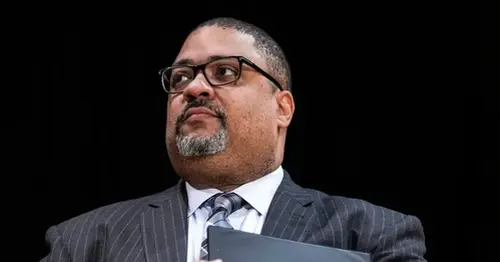 House GOP chairmen ask Manhattan D.A. Alvin Bragg to testify on Trump probe
WASHINGTON — Three House Republican committee chairmen on Monday sent Manhattan District Attorney Alvin Bragg a letter requesting he testify before Congress "about what plainly appears to be a politically motivated prosecutorial decision" in any potential indictment of former President Donald Trump in the prosecutor's hush-money probe.
"You are reportedly about to engage in an unprecedented abuse of prosecutorial authority: the indictment of a former president of the United States and current declared candidate for that office," the letter said. It comes ahead of a pending New York grand jury decision in the case.
"This indictment comes after years of your office searching for a basis — any basis — on which to bring charges, ultimately settling on a novel legal theory untested anywhere in the country and one that federal authorities declined to pursue," they lawmakers continued. "If these reports are accurate, your actions will erode confidence in the evenhanded application of justice and unalterably interfere in the course of the 2024 presidential election."
The letter was signed by House Judiciary Chairman Jim Jordan, R-Ohio; House Oversight Chairman James Comer, R-Ky.; and House Administration Chairman Bryan Steil, R-Wis.
Source: https://www.nbcnews.com/politics/congress/house-gop-chairmen-ask-manhattan-d-alvin-bragg-testify-trump-probe-rcna75754
Related Posts