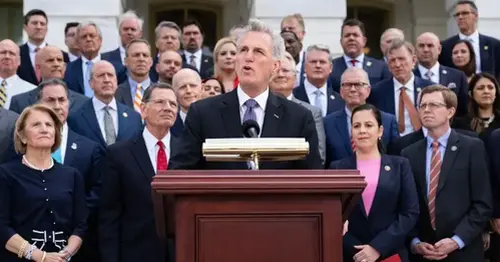 House GOP hard-liners trash debt limit bill as party leaders try to shore up votes
WASHINGTON — The race is on for congressional leaders to secure the votes to pass a bipartisan compromise struck by President Joe Biden and House Speaker Kevin McCarthy to avert a catastrophic debt default with just a week to go before the June 5 deadline.
Facing skepticism or criticism within their ranks, both party's leaders mobilized Monday to shore up support for the bill.
House Republicans leaders held a conference call with reporters Monday to promote the agreement.
"This is a historic Republican victory," said Rep. Elise Stefanik, R-N.Y., the GOP conference chair. "It will cut spending year over year."
The debt limit bill will 'absolutely pass,' Rep. Johnson says
May 29, 2023
00:56
Republican hard-liners in both chambers sniped at the deal, setting the stage for a contentious showdown Tuesday in the House Rules Committee, which is scheduled to consider the bill before an expected vote in the full House on Wednesday.
Rep. Ralph Norman, R-S.C., called the deal "insanity" and said the bill has "virtually no cuts." Rep. Chip Roy, R-Texas, issued a torrent of tweets blasting the deal as a "turd-sandwich." Norman and Roy are on the Rules Committee. Sen. Rand Paul, R-Ky., said the deal has "fake spending cuts."
"Conservatives have been sold out once again!" he tweeted.
Still, those right-wing members may be a minority among Capitol Hill Republicans. Some are confident the bill will succeed.
"Oh, this thing will absolutely pass," Rep. Dusty Johnson, R-S.D., the chair of the center-right Main Street Caucus, told reporters. "There's no question about that. I've talked to dozens of members — and listen, not every single member is on board. But when was the last time that every single member of Congress agreed on anything?"
GOP congresswoman: 'We're going to get there'
Numerous McCarthy allies touted new Congressional Budget Office estimates provided to some in Republican leadership that haven't been made public, two GOP sources said. The estimates say the Biden-McCarthy debt ceiling bill would cut $2.1 trillion in spending if the targets are met over six years — although only two years are binding in the bill.
The legislation would extend the debt limit for two years and pair it with a two-year budget accord that would modestly reduce nondefense spending and bump up military spending to $886 billion — the amount Biden requested for next year.
Sen. Lindsey Graham, R-S.C., blasted the bill as a "catastrophe for defense" on Twitter, saying Biden's Defense Department spending figure was inadequate and threatening to hold up the bill in the chamber. If the House passes the bill Wednesday, the Senate would have five days to pass it by the deadline next Monday.
Rep. Stephanie Bice, R-Okla., said the bill will pass with support from both parties.
"We're going to get there," Bice said. "There's going to be bipartisan support on this legislation. The president is supporting it. I think that we're in a really good place. Spending cuts are what we asked for; no new taxes are what we asked for; no clean debt ceiling is what we asked for. And that's exactly what we've got."
House progressives were silent for most of Monday as they held an afternoon call to discuss the legislation and the way forward.
Privately, some expressed disappointment with provisions like expanding work requirements from people age 50 to those age 55 for federal benefits like the Supplemental Nutrition Assistance Program and Temporary Assistance for Needy Families. They're also unhappy that the bill would expedite the Mountain Valley Pipeline, a natural gas pipeline under construction from northwestern West Virginia to southern Virginia, and overhaul permitting for energy and infrastructure projects.
Congressional Progressive Caucus Chair Pramila Jayapal, D-Wash., said the rules about work are "bad policy" that wouldn't help reduce unemployment.
"We have seen reams of data that show that when you put these work requirements in, they're really just administrative red tape that prevent the people who need help from getting help," she said Sunday on CNN's "State of the Union."
Democrats say it rejects 'extreme' GOP demands
Meanwhile, House Democratic leaders sent a memo encouraging lawmakers to sell the legislation as a defeat for "extreme MAGA Republicans" and arguing that it rejects "Republicans' extreme demands to cut critical lifelines for everyday Americans."
House Democrats face some internal conflict about how to proceed, according to sources in the caucus. Apart from the policy concerns, some are upset that they were largely excluded from the negotiations and don't feel a primary responsibility to carry the bill over the line. But they're also heavily invested in political success for Biden and in protecting the U.S. economy, which some believe will be enough to gain passage.
Rep. Annie Kuster, D-N.H., the chair of the center-left New Democrat Coalition, praised the deal, saying, "We expect that we will be involved with the White House in our Democratic leadership team in urging support for the vote."
Republicans opposed to debt deal forget 'the power of incrementalism,' GOP congressman says
May 29, 2023
07:59
Kuster said she is "pleased that the debt ceiling will be raised and that we will not have this fight again until at least 2025," adding that the bill would protect Social Security, Medicare, Medicaid, the Inflation Reduction Act's clean energy provisions and the CHIPS and Science Act.
"There will be some tough pills to swallow," Kuster said, citing the Mountain Valley Pipeline as a "significant concern" that some New Democrat Coalition members have expressed. But overall, she said, the White House negotiators "did an outstanding job."
"I do not see it as a transformative change in government funding or the impact on the vast majority of the American people," Kuster said. "For some people's lives, it will be very significant. But for most Americans, they will not notice."
Roy, the Freedom Caucus member who is on the Rules Committee, has argued that Democrats would get more out of the deal than Republicans. He tweeted Monday that McCarthy, R-Calif., had promised "nothing would pass Rules Committee without AT LEAST 7 GOP votes."
That came as news to other Republicans.
"That's not my understanding at all," Bice said Monday.
Source: https://www.nbcnews.com/politics/congress/house-gop-hardliners-trash-debt-limit-bill-party-leaders-try-shore-vot-rcna86687
Related Posts