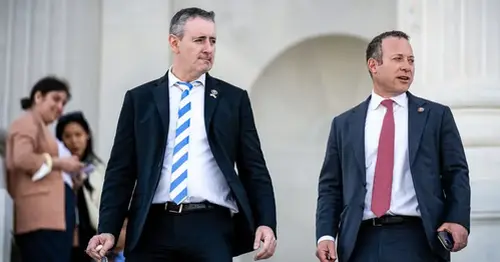 House group releases bipartisan plan to lift the debt ceiling and avert default
WASHINGTON — A bipartisan group of House lawmakers released an outline Wednesday for raising the debt ceiling, providing a competing option to the emerging Republican-only plan.
The proposal is vague. It outsources the task of finding ways to reduce the deficit in the short term to appropriators in a government funding bill and kicks the job of proposing long-term solutions to a new independent commission. It was released as a one-page summary.
The plan by the Problem Solvers Caucus — led by Reps. Brian Fitzpatrick, R-Pa., and Josh Gottheimer, D-N.J. — would suspend the debt ceiling through Dec. 31, 2023, allowing the U.S. to pay its bills and buy time for congressional leaders to negotiate a spending bill with unspecified "deficit stabilization controls."
In addition, the lawmakers propose to create a fiscal commission "to review and recommend a package to stabilize long-term deficits and debt" by Dec. 31, 2024, which will get an expedited up-or-down vote in Congress by Feb. 28, 2025.
McCarthy and Biden refuse to budge on the debt ceiling. What happens next?
April 17, 2023
08:47
If the government funding bill passes and the commission is set up by the end of 2023, it would be extended through Feb. 28, 2025.
It's far from clear whether the proposal can pass the Republican-controlled House — or if Speaker Kevin McCarthy, R-Calif., will put it to a vote. McCarthy is working on his own GOP plan that he hopes to pass as early as next week.
A Problem Solvers Caucus spokesperson didn't immediately respond to a request for comment.
In order to formally endorse a plan, the group needs the support of three-quarters of the Problem Solvers Caucus, which is comprised of 31 Republicans and 32 Democrats.
If it passes the House, it would still have to get through the Democratic-controlled Senate, where Majority Leader Chuck Schumer, D-N.Y., on Tuesday reiterated his demand for a "clean" debt limit extension with no policy strings attached.
Sen. Joe Manchin, D-W.Va., a centrist who has worked with the Problem Solvers Caucus in the past, said Wednesday he hadn't seen the proposal and declined to comment on it.
The idea of a bipartisan commission, or a "rescue committee" was proposed by Manchin and Sen. Mitt Romney, R-Utah, last year to come up with policy solutions that would keep key government programs, like Social Security, solvent.
Manchin said he discussed the plan earlier this year with McCarthy, who announced on Monday that the House will take up legislation to lift the debt ceiling in exchange for spending cuts in the coming weeks — a proposal that would have no chance of passing the Democrat-controlled Senate.
Source: https://www.nbcnews.com/politics/congress/house-group-releases-bipartisan-plan-lift-debt-ceiling-avert-default-rcna80431
Related Posts