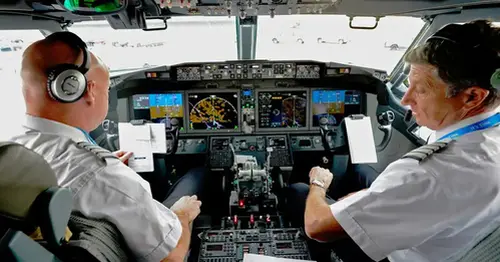 House passes bill that would raise retirement age for pilots to 67
WASHINGTON — The House voted Thursday to pass legislation that would reauthorize the Federal Aviation Administration, the agency that oversees commercial airlines and airports, for the next five years.
Lawmakers approved the bill, called the Securing Growth and Robust Leadership in American Aviation Act, which included a provision to raise the retirement age for pilots from 65 to 67 amid a major pilot shortage, in a 351-69 vote.
The effort to raise the retirement age was met with some opposition within the chamber from lawmakers who thought the move could endanger pilot standards and passenger safety. But the Rules Committee blocked an amendment that would have stopped the change.
"America has always been the gold standard in aviation, and this bill ensures that we remain the world leader," House Transportation Committee Chairman Sam Graves, R-Mo., said in a statement.
Several other amendments were considered to the bill, including one authored by Rep. Marjorie Taylor Greene, R-Ga., and Rep. Mary Miller, R-Ill., that would force airlines to rehire all pilots who were fired for refusing to be vaccinated. The chamber overwhelmingly rejected that amendment.
The Senate needs to pass its own version of the bill so the two chambers can work out a final measure before the current authorization expires on Sept. 30. Senators had been writing their own authorization legislation, but that process appears to be on hold.
Authorization is vital to the agency's work. Transportation Secretary Pete Buttigieg told NBC News that a "good" FAA reauthorization is key to combating flight cancellations and delays, adding that the agency doesn't "have the number of air traffic controllers" they need and that they don't have the resources for "the modernization of [their] systems that has to happen over the next few years".
Source: https://www.nbcnews.com/politics/congress/house-passes-bill-raise-retirement-age-pilots-67-rcna95349
Related Posts