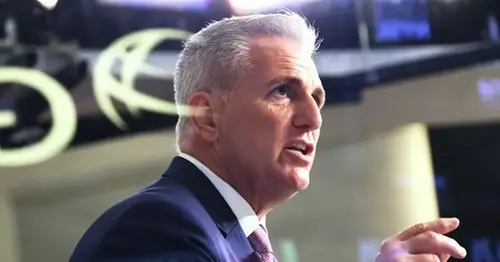 House Republicans hope to pass debt limit bill next week
WASHINGTON — House Republicans are crafting a debt ceiling bill with the ambitious goal of passing it next week, seeing it as a mechanism to force President Joe Biden to the negotiating table.
The legislation isn't yet ready for prime time, GOP lawmakers said, and it has not yet been released. It's far from clear Speaker Kevin McCarthy can find the votes to pass a bill with a narrow majority that allows no more than four Republican defections. Democrats are expected to vote no as a bloc.
Center-right Rep. Don Bacon, R-Neb., praised McCarthy's emerging plan and said the "goal is to get this on the floor next week." 
"He's providing a simple plan. I think it's good policy. I think the American people are gonna like it," said Bacon, one of 18 House Republicans whose district voted for Biden in 2020.
McCarthy said the bill will reduce federal spending to 2022 levels and cap annual growth at 1% over the next decade, though he didn't get more specific. It is expected to include work requirements for able-bodied adult recipients of Medicaid and other federal aid programs, though McCarthy has promised that the plan would not touch Social Security or Medicare.
McCarthy and Biden refuse to budge on the debt ceiling. What happens next?
April 17, 2023
08:47
The speaker will need to win over a swath of ultraconservative lawmakers who have never voted to extend the debt limit, including much of the House Freedom Caucus.
"I need to see the details. The details keep changing," said Rep. Scott Perry, R-Pa., the Freedom Caucus chairman. "I think he ought to make sure he has 218 [votes] before he releases it, quite honestly."
Perry insisted that any debt ceiling bill must repeal the Inflation Reduction Act's tax credits and new spending, as well as the law's $80 billion in new IRS funding to beef up enforcement.
Perry said that he also wants to see work requirements and a cancellation of Biden's student debt forgiveness. He added that he hasn't "drafted a thing" in the bill but has had plenty of discussions.
"I need to see what it is before I approve it," he said. "The list is pretty robust."
Rep. Dusty Johnson, R-S.D., said McCarthy wants to pass the bill "before the end of April."
"Kevin McCarthy's gonna get 218 votes on this deal," said Johnson, chairman of the business-friendly Republican Main Street Caucus. "These are really concepts that, I think, unify the conference rather than divide us."
Asked about the skepticism from the more conservative members, Johnson said that "the stew's not done cooking," but added: "The reality is that the speaker said he wants to get this done in the next few weeks and I have every confidence we will."
'It's changing by the day'
Biden has said he won't negotiate on the debt ceiling. The place for that, he argues, is in a separate government funding bill, but he won't grant the GOP any concessions simply to pay the country's bills.
Senate Majority Leader Chuck Schumer is backing him up. Schumer, who has demanded that McCarthy show his plan and pass it, indicated Tuesday that his position won't change even if the speaker's proposal is approved by the full House.
A "clean debt ceiling," without any spending cuts or policy attachments, "is the way to go," he said.
Some Republicans said there's no product for them to evaluate yet.
"It's changing by the day," said Rep. Brian Fitzpatrick, R-Pa.
Fitzpatrick said he's less interested in McCarthy's party-line plan and more focused on another debt ceiling bill that his bipartisan Problem Solvers Caucus is working on. He predicted the latter would gain Democratic support and be "much closer to the final solution" that becomes law, though he declined to provide details.
Other GOP lawmakers are already casting doubt on the leadership's timeline. 
"I don't know when this legislative package that the speaker talked about today is coming to the floor because I don't know when it's going to have 218 votes. It doesn't exist in writing yet," Rep. Matt Gaetz, R-Fla., who led the opposition to McCarthy's speakership, told reporters Tuesday. 
"We still have to resolve major questions like the dollar amount and the duration and the policy concessions that we've seen in the Senate. So it couldn't possibly have 218 votes because it doesn't exist," he said.
During a closed-door meeting Tuesday, some House Republicans also pushed for the debt ceiling plan to remove clean energy tax credits that were included in Democrats' Inflation Reduction Act last year, Bacon said. But leaders were noncommittal to that idea. 
"That's one of the areas for debate," Bacon said.
Still, McCarthy's upcoming plan does include one idea proposed by Gaetz that could win him over: new work requirements for able-bodied Medicaid recipients. "I think we're moving in the right direction," Gaetz said.
House Majority Whip Tom Emmer, R-Minn., didn't specify a timetable for voting on the bill.
"As soon as we're ready, I'm sure we'll put it on the floor," he said.
Emmer said Republican leaders don't intend to advance the bill through committee, which would break with their promises of pursuing regular order when McCarthy became speaker; he said it would go through the "committee of the whole," referring to the full chamber.
Asked by NBC News if the bill would extend the debt limit past the 2024 election, McCarthy replied: "No. It'll go into next year."
That would mean that Congress and Biden may find themselves in another debt ceiling standoff in the middle of the presidential campaign.
White House spokesman Andrew Bates blasted the GOP calls to repeal the Inflation Reduction Act, one of Biden's top legislative achievements, arguing that such a move would raise energy costs, prescription drug prices and the national debt.
Source: https://www.nbcnews.com/politics/congress/house-republicans-hope-pass-debt-limit-bill-week-rcna80193
Related Posts