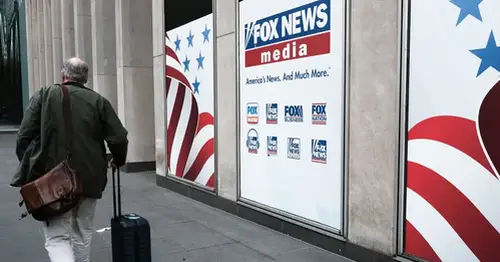 How Fox News' $787.5 million settlement with Dominion could affect both companies
Fox Corp.'s $787.5 million settlement Tuesday with Dominion Voting Systems is a landmark payout in a case that has stirred debate over issues from free speech to the health of democracy. But the agreement means vastly different things for their respective businesses.
"Settlements of this magnitude are just exceedingly rare in defamation cases," said Lyrissa Lidsky, a constitutional law professor at the University of Florida.
While Dominion had initially asked for $1.6 billion, even nine-figure payouts aren't unheard-of in high-profile media lawsuits. In October, a Connecticut jury ordered conspiracy theorist Alex Jones to pay $965 million for defamation to the families of victims of the Sandy Hook Elementary School shooting in Connecticut.
That ruling also involved claims of intentional infliction of emotional distress and violations of the state trade practices law, and the damages were calibrated to the number of families involved in the case. The jury ultimately made 15 individual awards of $28.8 million to $120 million, plus separate punitive damages.
Infowars is just a fraction of Fox News' size, and even the $965 million judgment didn't sink it. While Infowars' founder, Alex Jones, filed for bankruptcy late last year, he has continued broadcasting daily out of his studio in Austin, Texas. Jones' Infowars Store, which sells supplements and survival kits, has also continued operating since the lawsuit.
Fox Corp., with over $4 billion in cash on its balance sheet at the end of last year, is in a position to shoulder the settlement without selling assets. Before the deal was struck, analysts at Bank of America Securities projected that for every $500 million in damages, Fox shares would lose about $1 apiece.
A $787.5 million payment, based on the BofA projection, implies a $1.58 impact to each share of Fox stock, which was trading at $34 at the time the settlement was announced. The company's stock price slipped modestly in Wednesday trading, closing just 16 cents lower.
Fox News acknowledged as part of Tuesday's settlement that the court found "certain claims about Dominion to be false" and said it hopes the deal "allows the country to move forward from these issues."
But the company also emphasized its durability, size and reach, noting in its statement that it is "currently the number one network in all of cable [and] has also been the most watched television news channel for more than 21 consecutive years," reaching nearly 200 million people a month.
For Dominion, the settlement is huge — probably much larger than the company's worth.
The private equity firm Staple Street Capital valued Dominion at $80 million when it purchased it in 2018. Staple Street co-founder Hootan Yaghoobzadeh told CNBC on Wednesday that whatever remains of the $787.5 million after legal fees and corporate taxes are paid would be distributed to shareholders, including Staple Street, as well as management and employees.
"The number had to be right to be able to compensate us for the significant harm and damage they caused to the company, its employees and the management," Yaghoobzadeh said.
Dominion lawyer: This case was about deliberate deception over and over again
April 19, 2023
09:06
It's unclear how much will be left for Dominion itself, but the cash infusion could further solidify its already sizable position in the election technology sector.
Researchers at the University of Pennsylvania's Wharton business school estimated in 2021 that the industry earns $300 million in revenue annually, with Dominion capturing about 37% of the vendor marketplace by eligible voters.
In theory, Dominion could use funds from the settlement to overhaul the voting infrastructure it operates. The Brennan Center for Justice, a nonpartisan law and policy institute, flagged in a report last year that many U.S. voting machines need upgrades, estimating that it would cost $580 million to replace all of the country's outdated voting equipment.
Fox, for its part, has weathered high-profile criticism over its broadcasts before.
A leaked Fox News advertiser-focused presentation from 2020, first obtained by the industry watchdog Check My Ads and reported by the Daily Beast, detailed how the network survived ad boycotts pushed by activists. The presentation featured charts purporting to show that "conversation volume [about the boycotts] declined quickly to normal levels regardless of response" among brands — those that pulled their ads and those that didn't.
Since the settlement helped the company avoid a lengthy trial and on-air apologies, Fox News didn't face the sort of public advertiser boycott that it has in the past.
In 2021, key advertisers fled the company's highest-rated show, "Tucker Carlson Tonight," over racist comments, and they largely haven't returned. But the show's high ratings have helped buoy the network's overall market clout, and major brands still air ads on its lower-rated and typically less controversial programs.
Check My Ads co-founder Nandini Jammi said Wednesday that the network's bottom line most likely hinges more on its ability to recoup carriage fees than on certain brands' decisions about whether to run ads on certain Fox shows. Carriage fees are the rates cable providers such as Comcast (which owns NBC News' parent company) and Verizon pay to TV networks to be able to offer them to subscribers.
On an earnings call in November, Fox Corp. CEO Lachlan Murdoch said that in the next couple of years two-thirds of the company's distribution deals with cable companies would be up for renegotiation.
As Jammi sees it, the settlement leaves Fox more exposed to business risks than ever.
"They're walking into these negotiations without their usual leverage and with a whole lot more liability" after being hit with a hefty cost for airing certain content, she said. "I think that makes them unusually vulnerable to an organized consumer pushback right now."
In the meantime, another voting-machine maker still has Fox in its crosshairs. Smartmatic has sued it for more than $2.7 billion over much the same claim Dominion raised: false reports that its equipment was part of a conspiracy to rig the 2020 election.
Smartmatic said in a statement that Dominion's litigation "exposed some of the misconduct and damage" caused by Fox, adding that its own case "will expose the rest." Fox said Wednesday that Smartmatic's complaint is "on its face intended to chill First Amendment freedoms," adding that the case is likely to go to trial in 2025.
Source: https://www.nbcnews.com/business/business-news/fox-news-dominion-defamation-settlement-financial-impact-rcna80521
Related Posts