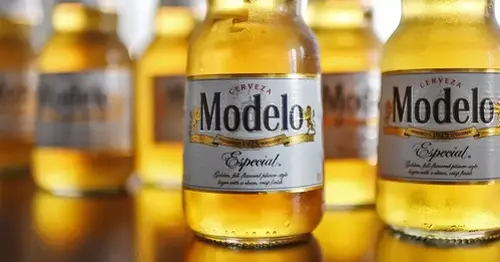 How Modelo Especial became America's No. 1 beer amid Bud Light's rapid decline
It's a fighter.
Modelo Especial has officially become the bestselling beer in the U.S., surpassing Bud Light among brews purchased at supermarkets and convenience stores.
The fact that the Mexican import beat the embattled Bud Light may have come as a surprise to some.
But consumer experts say Bud Light's demotion has long been in the making as a new, younger generation of beer drinkers topples well-established brands. And many of those young consumers are simply switching away from beer altogether.
"[Bud Light] is a brand that was reliably shrinking in sales every single year for over a decade," said Matthew Barry, insights manager at the market research company Euromonitor International.
Modelo, meanwhile, has seen exceptional sales growth for years, Barry said.
One might assume Modelo's ascension coincides with the rise of a Latin-centric, beer-drinking demographic. But Scott Scanlon, executive vice president of beverage alcohol at Circana, said that's only part of the story, noting that Modelo "has transcended to become mainstream for quite some time."
Younger drinkers are now more inclined to seek out imports, even if the price point is higher, said Harry Schuhmacher, editor and publisher of the trade publication Beer Business Daily. Schuhmacher said that while Modelo's taste may resemble that of other premium beers, including Bud Light, its image is fresher and less associated with previous generations of beer drinkers.
"Americans still prefer the light category: light color, light tasting," Schuhmacher said. As Bud, Miller and Coors drinkers age out of the beer category altogether, he said, Modelo Especial has captured a larger market share.
"Even though it's similar because people like that style, it ticks all the right boxes," he added.
In the past month, Modelo Especial sales have surged 14%. That surge coincides with a boycott of Bud Light in the wake of parent company AB InBev's decision to partner with Dylan Mulvaney as a brand spokesperson, as well as comments made by a since-ousted marketing executive about transforming Bud Light's "fratty" image.
Bud Light loses spot as top beer seller after Mulvaney controversy
June 14, 2023
03:24
Modelo has also been successful at tapping into sports marketing — especially mixed martial arts (MMA) and boxing, two of the fastest-growing sports categories in the country, Schuhmacher said.
"If you project the pre-boycott sales trends into the future, Modelo was going to hit No. 1 status in the U.S. within a few years anyway," said Barry, the industry manager at the Euromonitor International.
As for Corona — another Mexican import whose brand, like Modelo, is owned by the Rochester, New York-based Constellation Brands — its audience is narrower, according to Schuhmacher.
"Corona is for an older, whiter audience," he said. "Modelo Especial has been positioned, on purpose, for a younger, more diverse market."
AB InBev's share price has finally rebounded after suffering an approximately 15% decline since the start of the Mulvaney controversy in April.
Still, over the past five years, its share price has declined 40%.
But rival Constellation Brands has not seen outsized performance during the same five-year period either, with shares climbing about 7%.
There's some disagreement about the future of the beer category overall, as the decadelong craft beer frenzy fades. Barry believes any gains by Bud Light's domestic rivals may prove short lived. "Once the exodus of Bud Light drinkers stops, they are going to find they are really in the same boat," he said
"How do you market these beers to younger generations without alienating your existing consumer base? That is going to be a really difficult needle to thread for them all in the coming years." 
Scanlon, from the consumer insight company Circana, said beer sales will continue to underperform spirits, which now dominate the alcoholic beverage category. Circana data show beer sales growth remains slow but steady, at about 2%.
Source: https://www.nbcnews.com/business/business-news/how-bud-light-got-beat-by-modelo-number-one-beer-in-the-us-rcna89361
Related Posts