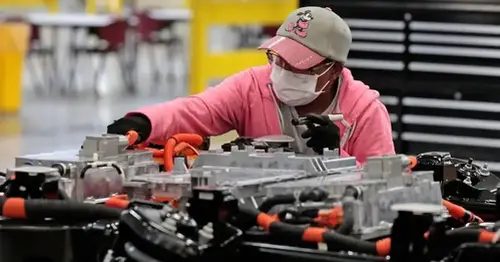 Increases in Black unemployment are especially dire for Black women, experts say
After the racial gap in unemployment was at its slimmest in months, an increase in unemployment among Black workers is causing some concern over lapsed progress for the Black labor force.
The unemployment rate increased for Black people from April to May, from 4.7% to 5.6%, according to the Bureau of Labor and Statistics. In February, unemployment rates among Black workers had hit their lowest levels in more than a year, narrowing a gap with white workers.
"The spike in the unemployment rate was the most troubling sign in this report," said Nick Bunker, the economic research director at the Indeed Hiring Lab. "Almost half of the increase in the number of unemployed workers was due to a spike in Black unemployment. This might be statistical noise, or it could be a sign of Black workers' disproportionately bearing the brunt of a rise in joblessness."
While the overall rate of job losses in the Black workforce increased, Black women were the most affected, specifically those who work in the public sector, according to the Bureau of Labor Statistics. Their unemployment rate increased from 4.4% in April to 5.3% in May. Because Black workers make up about 13% of the labor force, the unemployment numbers among Black women in May significantly increased the overall unemployment rate, said Michelle Holder, an associate professor of economics at John Jay College at City University of New York. 
For Black men, the unemployment rate increased from 4.5% to 5.6%, according to the report. More Black men work in transportation or warehousing compared to Black women, who, in addition to being heavily represented in the public sector, also work in retail, leisure and hospitality, Holder said. 
Last month, the unemployment rate for Black workers hit 4.7%, the lowest in more than 50 years, Holder said. The low rates were driven by Black men, "particularly in the transportation and warehouse sector, where over the last three years, that sector has added a million jobs," Holder said. "And that has really benefited Black men more so than Black women."
While loss of income from unemployment can affect any household, it can create even more economic challenges for Black families, who are less likely to have savings or multiple people earning incomes, said Valerie Wilson, the director of the Economic Policy Institute's Program on Race, Ethnicity, and the Economy.
"That level of economic insecurity, I think, feeds into the more harmful impact of a job loss when you don't have another earner in your household income," Wilson said. "And then if there are not sufficient savings to sort of fill in that loss of income until someone can find a job."
Source: https://www.nbcnews.com/news/nbcblk/increases-black-unemployment-are-especially-dire-black-women-experts-s-rcna88018
Related Posts